A New Hotel Booking Site Brings Bidding to Posher Properties
By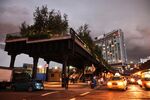 In a hotel landscape dominated by Hyatts, Marriotts, and Holiday Inns, an Internet startup hopes to connect more travelers with boutique and independent inns, filling more unsold rooms in the process.
Stayful, a seven-person firm founded by hotel industry veterans, encourages hotel shoppers to bid on rooms at the kind of upscale boutique hotels that rarely turn up on big travel sites. It launched with hotels in New York and San Francisco and plans to add 13 more markets before the end of the year. The company has received $2.4 million in funding from venture capital firm Canaan Partners.
The startup plans to help boutiques overcome a persistent glut of unsold rooms, which leads to an estimated $13.9 billion in lost revenue for independent and boutique hotels each year, according to a 2012 report from consulting firm PwC. Independent and boutique hotels have an occupancy rate of 58 percent—slightly below the national average of 62 percent—hindered by their smaller marketing budgets.
Stayful collects 10 percent of the transaction price, far less than major online travel agencies—Expedia, Priceline.com, Travelocity, and Orbitz—typically assess for booking hotels. The rates can top 20 percent to 25 percent, and often don't make financial sense for independent hotels, says Larry Broughton, founder and chief executive officer of Broughton Hotels, a Newport Beach (Calif.)-based company that owns or manages 20 boutique hotels in California and Chicago. "It's kind of the most expensive business you're going to find because of the fees those sites charge," he said. "You're giving away a lot of that room rate before anyone even gets to your hotel."
In a twist on the hotel room bidding pioneered by Priceline.com, Stayful's model lets a shopper submit a price on a room from inventory that hotels submit for the next 30 days. The site recommends a bid price for each hotel room, but the shopper is free to offer a lower one. The hotel then either accepts that offer—with a nonrefundable booking completed—or can choose to send the shopper a counteroffer.
Stayful says it's too soon to determine how deep the discounts will be. Currently there are about 200 hotels in its network; if a user searches for a site that's not in the network, Stayful uses that as an opportunity to encourage that hotel to join up. There's also an option to book a hotel room at the published price immediately, without the haggling.