business
A Century-Old Eyeglass Shop Expands From New York to Seoul
By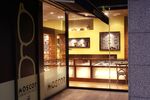 According to family lore, a Polish immigrant named Hyman Moscot landed in New York in 1899 and went into business selling eyeglasses out of a pushcart on the Lower East Side. Some 15 years later, he opened the family's first storefront in the tradition of mom-and-pop shops that emphasize customer service over fast growth.
In 2012, Hyman's great-grandson Harvey broke with the past and launched a Brooklyn storefront to sell the family-owned brand's original eyeglass designs. It was the first Moscot shop outside of Manhattan. Now Moscot is opening a retail shop in Seoul, South Korea.
How did a company that needed more than a century to cross a river talk itself into a retail location nearly 7,000 miles away?
It started with necessity. About a decade ago, supply dried up for some Moscot mainstays. "There's always been a core group of people that bought these frames," says Moscot. To keep customers happy, the company contracted with a factory to reproduce them. In 2008, it used its new manufacturing capability to get into the wholesaling business. Today, the company's frames are sold in more than 950 shops around the world.
Eyewear was getting trendy, making Moscot's timing, well, visionary. "We used to have to tell people that glasses were a fashion accessory and not a medical device," says Wendy Simmons, who is co-president with Moscot. These days, fashion magazines call the company asking for frames to use in photo shoots. Even the rise of Warby Parker—the startup that sells eyeglasses in the same sort of classic styles that Moscot carries—has been good for the company, says Simmons.
The result has been a big boost for the Moscot brand. When the company left a shop it had occupied for 77 years for a new location down the street, the move garnered attention in the Wall Street Journal and the New York Times. Simmons' background in publicity helped, too. When the company sent models wearing Moscot sunglasses for a swim in the East River, customers called the shop asking if they could buy the swimming caps the models wore.
The company expects to sell some 67,000 frames this year, about 80 percent of them as a wholesaler. On Moscot's website, they retail for about $240 and up. To help keep the old brand young, the 43-employee company recently hired Harvey's son Zack as a designer.
The Seoul shop is a test, Harvey Moscot says. His family isn't operating the shop: Its Korean distributor is, through a licensing deal. If the experiment works, the company will look at opening stores in other countries. The Moscot brand, he adds, seems to resonate with international consumers who want to connect with the U.S. immigrants' experience.
"When someone comes to Moscot and puts on a frame, they're putting on more than a pair of eyeglasses," he says. "You're putting on an immigrant's story that left their land at the turn of the 20th century to take a chance in America and rebel against what their parents had done."
Before it's here, it's on the Bloomberg Terminal.
LEARN MORE