Three Ways Bank of America Just Saved $1 Billion
by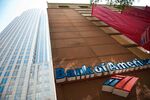 Frugality isn't always in fashion in banking. There was a time not long ago when Wall Street executives would rather boost the bottom line by hiring a hot team of traders, wooing a particularly affluent investor, or landing a big mergers and acquisitions deal than laying off workers and dialing down how much junior analysts can spend on Seamless sushi orders.
But cutting costs, as much as anything else, helped Bank of America beat earnings expectations this morning. The company trimmed its non-interest expenses by 6 percent, to $16 billion, and those savings accounted for one-fourth of the bank's $4 billion in net income for the quarter. "If they can lower their costs and maintain them, it will really help them down the road when revenues improve and the economy gets better," Pri de Silva, senior banking analyst at CreditSights, told Bloomberg.
So how does the second-largest bank in the U.S. sock away $1 billion in three months?
Getting Leaner: Bank of America trimmed payroll to about 257,000 in the recent quarter, down 6.6 percent from a year earlier and 2.2 percent from last quarter. That's 18,300 fewer paychecks in 12 months. Not surprisingly, Bank of America's personnel expenses shrank by almost $200 million. BofA has wielded the ax before: The company's overall head count swelled to as high as 288,000 in the wake of the financial crisis, when the big bank subsumed Countrywide and Merrill Lynch.
Getting a Little Help: An improving economy and more responsible borrowers always offer a nice tailwind in the banking business. Bank of America is spending much less time (and money) hounding its customers to make mortgage payments. Previously, the bank said it would have 400,000 home loans that were more than two months late on payments at the end of the year. The bank now says that number will come in well under 375,000. Because of that momentum, Bank of America was able to "right-size default-related staff." (Or, if you prefer it in English: "lay off bill collectors.")
Calling Off the Lawyers: Bank of America's litigation expense dropped to $471 million in the recent quarter, a little less than half the amount it spent on legal fees in the year-earlier period. In mid-2012, Bank of America's legal team was busy hammering out an $11.8 billion settlement with all 50 state attorneys general and a $2.4 billion settlement with Merrill Lynch shareholders. While the recession-related legal hangover appears to be clearing up, Bank of America might have trouble keeping those costs down as it goes back to court to defend its massive settlement on Countrywide bonds.
Before it's here, it's on the Bloomberg Terminal.
LEARN MORE