In BP Oil Spill Claims, Spreading Signs of Self-Dealing
Paul M. Barrett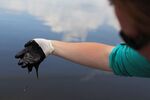 The BP spill-settlement scandal is spreading like, well, an ugly oil slick in the Gulf of Mexico.
The controversy concerns a settlement the British oil giant agreed to last year covering one swath of damage claims by private businesses stemming from the 2010 Gulf oil spill. BP has acknowledged partial responsibility for the original disaster and has pled guilty to federal criminal charges. It has paid out a total of more than $25 billion for cleanup and to meet claims. BP says it plans to disperse billions more, but that it has been besieged by demands for compensation of "fictitious" and exaggerated private claims.
BP alleges that the court-supervised facility set up to pay certain business-damage claims is rife with mismanagement and corruption. In response, the federal judge supervising the case has appointed former FBI Director Louis Freeh as a special master to investigate the claims-payment process. BP has asked the judge, Carl Barbier of New Orleans, to order all payments temporarily suspended while Freeh, who now practices law in New York, conducts his probe. Barbier has scheduled a hearing on Friday to consider the request.
Meanwhile, BP revealed some important news in its motion seeking to freeze the payment process: A second key lawyer helping to administer the claims facility has been terminated amid allegations of kickbacks from attorneys representing claimants. In a filing in federal court, BP alleged that two of the settlement program's "three senior legal counsel recently were terminated after apparently intervening in the processing of claims in which they appear to have had a financial stake."
In late June, the court-appointed chief administrator of the claims facility, attorney Patrick Juneau of Lafayette, La., suspended one of his top aides, Lionel "Tiger" Sutton III, because of kickback allegations. Sutton subsequently resigned. More recently, Juneau terminated a second aide, Sutton's wife, Christine Reitano. Both Reitano and Sutton are local lawyers in New Orleans.
The New Orleans Times-Picayune has useful background on Sutton and Reitano:
"Barbier appointed Freeh as special master to investigate alleged misconduct in the office run by Lafayette-based lawyer Patrick Juneau after Juneau's own internal investigation of senior attorney Lionel H. Sutton III accused him of writing policies that benefited himself and other plaintiff attorneys. The report also said a 'confidential source' had accused Sutton of trying to influence a claim filed by a New Orleans law firm. That firm had allegedly paid Sutton a share of settlement payments for claims referred to the law firm by Sutton before he joined the claims office.

"Juneau also reported to Barbier on July 2 that he had terminated the contract of Sutton's wife, Christine Reitano, who also worked as a lawyer for the program, but Juneau's report did not explain the termination. 'While the investigation is just beginning regarding their involvement in other policies, it is undisputed that Mr. Sutton and Ms. Reitano were in a position to influence or control the outcome of virtually every policy decision made by [the court-appointed claims facility],' said a BP memorandum in support of its motion. Reitano also represented claimants before the Gulf Coast Claims Facility, the office run by Ken Feinberg that preceded the court-appointed claims office."
One senses that there are more shoes to drop.
Before it's here, it's on the Bloomberg Terminal.
LEARN MORE