Hot Pockets, With Foodie Makeover, Tries to Mature With Millennials
by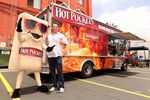 Hot Pockets turns 30 this year, and the brand of frozen, flaky meat-and-cheese-stuffed rolls wants to show it can grow up alongside the millennials who made the microwavable snack an after-school staple. Nestlé announced a major rebranding effort Tuesday that includes new Hot Pockets ingredients, packaging, and advertising. The revamped line, on grocery store shelves now, contains "premium cuts of meat," "seasoned crusts," and "real cheese" (and raising the unfortunate question as to what was inside Hot Pocket before).
Hot Pockets was launched in 1983 and grew popular through the 1990s as a warm snack that kids could make for themselves, no stove required. Now Nestlé hopes to boost the brand's popularity among its core consumers—teenagers and young adult men—as they mature past the point of using all the kitchen appliances. That means convenience is no longer enough: Most millennials, including men, now consider themselves to be "foodies," Nestlé found, and they are focused on food quality and health. Gone is the "What are you gonna pick?" jingle from the 1990s. The new tagline: "Better taste. Better quality." Gone is the previous beef in favor of Angus for the steak pockets.
The cheese, it should be noted, was always real. Daniel Jhung, brand director for Hot Pockets, says the new pitch now touts "real cheese," because there was a perception that it was artificial. The snacks will still come individually wrapped in plastic, with sleeves for microwaving, and the retail price will remain unchanged.
And it's not all about making the frozen turnover into a pseudo-gourmet food. Hot Pockets will also work with the humor website Funny or Die to produce branded content and material for its own marketing channels. "We're not very serious," Jhung says. The company did a "Pocket Like It's Hot" video with the artist formerly known as Snoop Dogg last year.
Nestlé is a market leader for frozen snacks globally, and keeping Hot Pockets among the top-selling frozen-snack products is important for the company. Yet consumer perception of frozen foods in general hasn't been great. Comedian Jim Gaffigan has a whole routine poking fun at Hot Pockets, and Nestlé assures me it does not sponsor his routine. "We wanted to shatter the perceptions" about frozen food, says Jhung.
Euromonitor International data show U.S. sales of Hot Pockets fell to about $614 million in 2010, down about $30 million from 2009. While sales have rebounded since then, Nestlé laid off 103 Hot Pocket factory workers due to slowing sales last year.
How do the new Hot Pockets taste? The company cites a blind taste test in which three out of five consumers supposedly preferred the new version. Nestlé expects the other two-fifths will find varieties they can enjoy. Any gourmand looking for a two-minute microwavable snack probably isn't going to be all that picky.
Before it's here, it's on the Bloomberg Terminal.
LEARN MORE