GlaxoSmithKline's Andrew Witty on Fixing Big Pharma's Bad Boy
by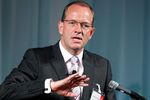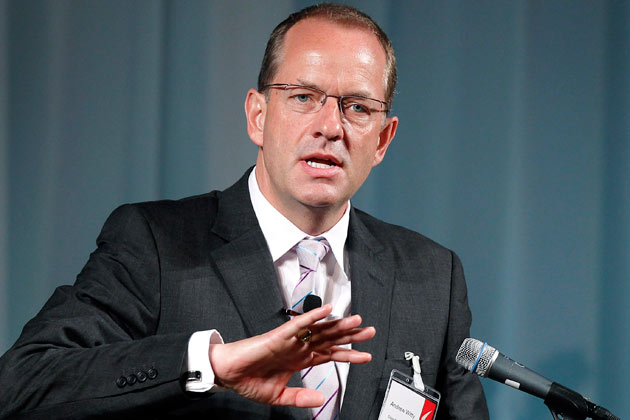 How do you turn your dream market into a nightmare? Hire leaders who allegedly pay almost half a billion dollars in bribes, dupe you into funding fake conferences, and use prostitutes to curry favor. Watch one of them confess from his jail cell on national TV after your four-month internal investigation found "no evidence of wrongdoing." Have a senior official—in this case, Gao Feng at China's Ministry of Public Security—tell reporters that "bribery is part of the strategy" of your company. And make sure he refers to the record $3 billion fine you paid last year for fraud that you're desperate to make people forget.
Give a dose of that to GlaxoSmithKline Chief Executive Officer Andrew Witty, and there's no need for Gao to ask, "Can you sleep well at night?"
For Witty, 48, the unfolding bribery drama in China revives a reputation for corporate bad behavior that he's spent years trying to put right. "When I came to this job five years ago, we were under a lot of scrutiny," he told me in a phone call from Nairobi in May, after announcing a move to open GSK's research data to the public. "I've tried to keep us focused on a very clear strategy of modernizing ourselves, changing our culture to create a much more values-based decision-making, and looking to try to make sure the company's agenda is in line with society's expectations. We've gone through lots of challenges, but we sit here with a substantial degree of optimism."
In many ways, that optimism was justified. Under Witty's leadership, GSK had morphed from a scandal-plagued London drug giant to a model citizen of Big Pharma. Endearing himself to big data fans by sharing old research is just the latest move. Witty's other pioneering moves range from creating the world's first patent pool and open-research lab dedicated to curing neglected tropical diseases to compensating his U.S. sales force based on their quality of service instead of volume of sales. That helped Witty earn a British knighthood last year and such honors as being named 2013 Top CEO by Best Practice Institute. He's a member of the U.K. prime minister's Business Advisory Group and serves as chancellor of the University of Nottingham.
Still, despite almost doubling the compliance department and preaching a "zero tolerance" policy on bad behavior, Glaxo's culture is under scrutiny once again. Chinese officials this week said GSK hid more than 3 billion yuan ($489 million) of bribes to doctors, hospitals, and officials through fake payments to some 700 travel agencies and consulting firms. (GSK didn't make Witty available for an interview Tuesday but issued a statement to say it's reviewing "all third-party relationships" and is "deeply concerned and disappointed by these serious allegations.")
Although Chinese officials are investigating at least four other drugmakers for corruption, Hong Kong lawyer Wendy Wysong told Bloomberg News, they've been unusually aggressive in their treatment of GSK. One reason may be Glaxo's admissions of fraud in the U.S., which Gao says left his team shocked and "very puzzled as to what actually happened." Last July, GSK agreed to pay a $3 billion fine for promoting the antidepressant Paxil for children and Wellbutrin for sexual dysfunction and weight loss, along with failing to report safety concerns for its diabetes drug Avandia.
If that could happen in one of the world's most regulated drug markets, imagine what the company might be doing in the world's most populous and fastest-growing drug market. After six months of investigating in China, Gao told reporters on July 15 that they found a broad criminal ring in which Glaxo was "the godfather."
While four senior GSK executives are in Chinese custody and Glaxo's China head Mark Reilly has reportedly fled the country, the scandal's impact on Witty and GSK remains unclear. But consider why he took the CEO job in the first place: "I wanted to modernize this company. I feel very emotionally connected to it. I think that's why the board chose me," he said from Nairobi. That was two months ago, when Witty could envision a future based on personalized medicine that blends bioelectronics with pharmacology, having looked into a whistle-blower's charges of bribery in China and said there was nothing there. He could describe GSK as "a different kind of company" that was making better decisions because it "put our customer first."
But amid that optimism lay the caution of a man who's learned that trust can be a fragile commodity. "All companies have to realize we're part of the world," he said. "We sit there at the whim of society and it's really important that we evolve our decision-making and action to be in step. Every day we have to earn the trust of our customers. We never take it for granted."
Before it's here, it's on the Bloomberg Terminal.
LEARN MORE