Germany's Clone Kings Raise Nearly $2 Billion
The Samwer Brother's Rocket Internet incubator plans to triple its portfolio of companies in five years
by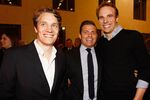 It's been nearly two years since Oliver Samwer sent out a manic staff memo declaring himself "the most aggressive guy on [the] internet on the planet" and exhorting his team to do business like "a blitz-krieg invasion." His aggression seems to be paying off. Rocket Internet, the Berlin-based e-commerce incubator Oliver started with his brothers Alexander and Marc in 2007, has reportedly raised $1.8 billion in the past 18 months and plans to more than triple its portfolio. "We have roughly 75 companies today and in five years we want to have 200 to 250 companies around the world," Oliver told Reuters.
The Samwer brothers have already earned hundreds of millions of dollars by rolling out copycat versions of companies, including EBay, Groupon, and Zappos in other countries. Rocket claims to be "the world's largest Internet incubator," with a network of 25 offices worldwide. The empire reportedly employs some 20,000 people in about 43 countries.
According to Reuters, Rocket has raised $1 billion since the start of this year, much of it from Sweden's Kinnevik and from Access Industries, the company started by Russian-born billionaire Len Blavatnik. "We have a lot of different investors—big institutional funds, big banks like JP Morgan, family offices and entrepreneurs," Oliver told Reuters.
In recent years, Rocket has focused on Asia, Latin America, and Africa in order to tap markets in which there is little competition. According to TechCrunch, Rocket will continue that plan. The Samwers may, however, alter their strategy of seeking early exits, instead hunting value through initial public offerings and dividends. "Our biggest mistake we made in the first 10 years was to not build the biggest business, but to sell businesses too early," Oliver told TechCrunch. "We have grown up."
Before it's here, it's on the Bloomberg Terminal.
LEARN MORE