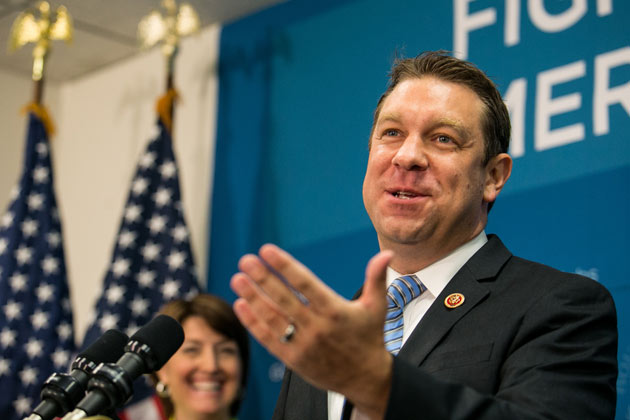 Trey Radel: Husband, father, U.S. congressman, Republican, hip-hop junkie.
Florida's representative for the 19th District released a review of Jay-Z's latest album, Magna Carta … Holy Grail, on Twitter yesterday. The former CBS TV news reporter has made music a part of his political identity for a while, soliciting track recommendations from his Twitstituency and opining on Pitbull. He has nothing but compliments for Sean Carter's latest release, calling it "pretty sick" and "solid" and praising its "sick flow" and "smooth beats." And, lest anyone think he was merely pandering to a younger demographic, Radel betrayed some real hip-hop knowledge when referring to the TR-808 drum machine sound in one tweet and homage to Eric B & Rakim, who he called his "ALL TIME FAVORITES" (caps are the congressman's).
Two thoughts about this. First: Hip hop has come a long way, from presumed fad, to soundtrack of African American consciousness, to shuffle-playlist favorite of a conservative Florida Republican who describes himself as "a common sense voice in the debates over spending, tax reform, and the role the government should play in our lives."
(Personal note related to this: Last week, I drove my family of four up to a lake in New Hampshire for a summer vacation. On the way, we listened to Public Enemy's Black Steel in the Hour of Chaos. I don't know if Chuck D and the Bomb Squad expected their music to accompany the Grobarts up to Squam Lake, but here it was. And while we're on the topic of how far hip hop has come, also see: Ice Cube.)
Second thought: What else is on Congressman Radel's playlist? He's already professed a love for Eric B & Rakim, which makes sense, given the duo's breakout single was Eric B Is President. What other tracks might he be listening to?
1. I Get The Job Done, Big Daddy Kane—obviously, a perfect campaign theme song.
2. I Got It Made, Special Ed—as strong a defense of the free market and prosperity as there ever was.
3. Crossover, EPMD—politicians are always talking about sticking to principles, even if it costs you. So were Erick Sermon and Parrish Smith.
4. F— Martinez, 2 Live Crew—OK, Radel probably wouldn't agree with 2 Live Crew's tirade against former Florida Governor Bob Martinez and Broward County Sheriff Nick Navarro, but when was the last time local Florida politics was the focus of a rap song?
5. I'll House You, Jungle Brothers—you know this is Congressman Radel's pump-up jam as he drives over to the House of Representatives. You know it.
Before it's here, it's on the Bloomberg Terminal.
LEARN MORE