Falling in Love Is Easy, Especially During Earnings Season
by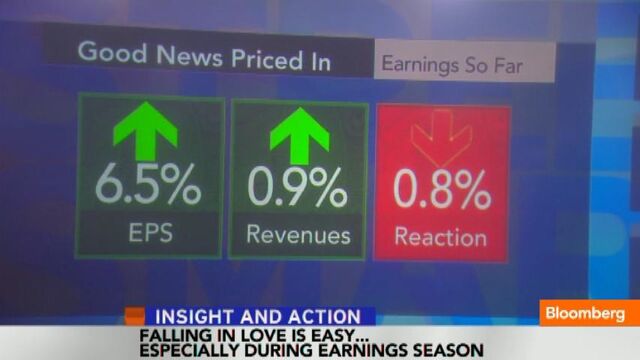 Stocks investors love a good story, and earnings season provides the perfect moment to utter those three little words: already priced in. Forty-five companies in the S&P 500 have reported earnings thus far, and while aggregate results have exceeded estimates, stocks have fallen in response.

I appreciate being let down easy, but I'd rather avoid letdowns altogether. So today we're on guard, looking for stocks which have run up ahead of earnings as analysts raised estimates. Wall Street sees perfection, we see pain.

E-Trade is a good example. The stock has rallied 48 percent this year and now trades at 46x earnings. Twelve analysts have raised estimates in the past four weeks. It almost sounds too good to be true.

Here are nine other companies that have a similar profile. To be clear, we're not saying there's anything wrong with these universally loved companies -- we're simply skeptical of the enthusiasm given how stocks are reacting post earnings:

As a bonus for blog readers, we include nine additional names which meet our criteria -- they have three or more recent analyst upgrades, returns of at least 20 percent so far this year and earnings reports within the next two weeks): Assurant Inc. (AIZ), BB&T Corp. (BBT), Celgene Corp. (CELG), Ford Motor Co. (F), General Dynamics Corp. (GD), General Motors Corp. (GM), Microsoft Corp. (MSFT), Noble Energy Inc. (NBL), Regions Financial Corp. (RF).
Before it's here, it's on the Bloomberg Terminal.
LEARN MORE