Can This Startup Help Freelancers Earn More?
by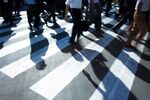 Profiting by connecting employers with temporary workers goes back at least as far as the staffing agencies that gained prominence after World War II. With the ranks of independent workers in the U.S. estimated (PDF) to grow to more than 23 million within the next five years, a slew of startups have been seeking to tap into the freelance economy. One popular business model: pushing services that companies use to hire, manage, and pay freelance workers directly, as opposed to the intermediary role played by staffing firms like Manpower and Kelly Services.
Among recent entrants is Work Market. Like fellow marketplaces Elance and oDesk, the New York-based startup serves as a meeting place for employers and workers. And similar to staffing firms, Work Market handles human resources functions like background checks, accounting, and compliance needs for employers. That makes the company a good fit for both freelancers, who can earn more than at a temp agency, and employers that have complex hiring rules, says Chief Executive Officer Jeff Leventhal.
"It's one thing to find one person to design a logo or deliver doughnuts," says Leventhal, adding that the majority of the jobs posted to Work Market are for skilled workers in IT and legal services. "If you're a big company, you need to build a process around finding, verifying, and paying freelance workers."
Leventhal launched Work Market in 2011, keeping the company mostly under the radar while it signed large clients and tailored its system to each client's human resources software. Today the company has more than 300 corporate clients, including defense contractor Lockheed Martin and marketing conglomerate Omnicom Group. More than 300 companies and 41,000 workers belong to the marketplace, and there are usually more than 2,500 open listings, the company says.
That's a far cry from the 3.1 million registered freelancers that oDesk claims. To help reach more workers, Leventhal launched a service called Work Feed, which lets other websites publish job listings that appear on Work Market's website. A recent adopter of Work Market's job stream is Freelancers Union, which added Work Feed to its website yesterday.
Work Market is making the process of hiring freelancers more efficient, says Sara Horowitz, executive director at the nonprofit, leading to better pay. "A business may be paying $100 an hour for freelance labor," she says. "But a payroll company takes this much, and a compliance company takes that, and by the time the worker gets paid, they may only be making $20 an hour."
Work Market charges small clients a fee for each transaction. Larger employers pay a monthly fee of up to $10,000. The company, which raised $10 million in venture capital from SoftBank Capital, Spark Capital, and Union Square Ventures in May, is working on adding a free option for small businesses looking for freelance employees. The theory is that small firms will attract new talent that will be attractive to paying customers.
Leventhal says his 38-employee company isn't profitable yet. He notes that it has enough clients to be in the black if it wasn't spending to attract more employers and lay groundwork for expansion to Canada, India, Singapore, and Spain. For now, Freelancers Union's Horowitz says Work Market is a step toward giving workers a transparent view of employers' freelance costs. "Employers have been arguing that they need greater flexibility, and we think that's true," she says. "The problem is, that flexibility has always been at great cost to the freelancer. We need to look behind the label."
Before it's here, it's on the Bloomberg Terminal.
LEARN MORE