Bernanke Accentuates the Dovish Side of Fed Policy
By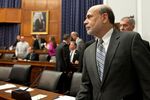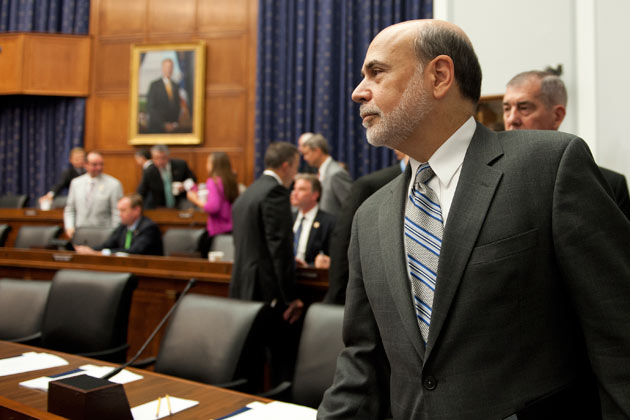 Federal Reserve Chairman Ben Bernanke didn't announce any changes in monetary policy in congressional testimony today, but his linguistic stylings definitely had a dovish feel. Bond investors seemed to take the testimony as an indication that the Fed will keep rates low for longer than they'd expected, and Treasury 10-year yields fell to the lowest in two weeks.
The yield on 10-year Treasury bonds rose sharply from around 1.6 percent in early May, to over 2.7 percent in early July, as investors concluded that the Fed was getting set to taper its purchases of long-term bonds. Lately, though, Bernanke and other Fed policymakers have been pushing back against that perception and 10-year yields have edged back down. They fell in early trading today to just under 2.5 percent.
What happens on Wall Street matters to Main Street because mortgage rates have fallen in sync with Treasury yields. On July 17 the Bankrate.com national average for 30-year mortgages was just under 4.5 percent, from over 4.6 percent earlier in the month.
Here's the key sentence from Bernanke's prepared remarks to the House Financial Services Committee: "I emphasize that, because our asset purchases depend on economic and financial developments, they are by no means on a preset course." In other words, the Fed could taper bond purchases more quickly if the economy looks as if it doesn't need the support, or keep buying at its current pace if the economy remains weak.
Bernanke noted in an aside that financial conditions "have tightened recently," a factor that would weigh against cuts in bond purchases. The unstated irony is that the tightening of financial conditions was caused by the Fed's own statements about tapering.
The chairman took pains to make clear that the Fed is a long way from raising short-term interest rates. He emphasized that whatever the Fed does about the federal funds rate—the overnight interbank lending rate that it controls, also known as the "policy rate"—is separate from its bond-purchase policy.
Barclays Research economists said Bernanke was making clear that "any decision taper should not be construed as a willingness by the committee to raise the policy rate." The Barclays team estimates that the Fed won't start raising the federal funds rate until the first quarter of 2015.
Before it's here, it's on the Bloomberg Terminal.
LEARN MORE