Bad News for Barclays—and Maybe JP Morgan
Paul M. Barrett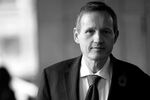 Barclays' energy-trading troubles could be a warning to rival JP Morgan.
The Federal Energy Regulatory Commission said Barclays and four former traders must pay a combined $487.9 million in fines and penalties related to alleged manipulation of U.S. energy markets. That's obviously bad news for Barclays, and it could also be a grim sign for JP Morgan and its high-profile head of commodities trading, Blythe Masters, one of the most powerful women on Wall Street. The agency has said it suspects JP Morgan of similar misconduct and indicated it might seek to hold Masters personally liable for helping to cover up improprieties.
Employing new authority that Congress granted the FERC in the wake of the 2001 Enron scandal, the agency has stepped up its policing of energy trading. Since 2011, the FERC has publicized at least 13 probes of energy-market gaming, including one that resulted in a settlement with Deutsche Bank.
Barclays denied wrongdoing and said it will fight the FERC punishment in court. "We believe that our trading was legitimate and in compliance with applicable law," spokesman Marc Hazelton said in a statement. "We intend to vigorously defend this matter." He said the bank believes the penalty is without basis and that the FERC order is a "one-sided document, and does not reflect a balanced and full description of the facts or the applicable legal standard."
JP Morgan has similarly denied any misconduct by Masters or her subordinates. Asked about the Barclay's situation, Jennifer Zuccarelli, a JP Morgan spokeswoman, said via e-mail: "We're not going to comment on a Barclay's fine."
Here's further helpful background from Bloomberg News:
The FERC determined that the Barclays traders manipulated markets in the Western U.S. from November 2006 to December 2008. The employees made transactions in fixed-price products—often at a loss—with the intent of moving an index to benefit the bank's other bets on swaps, according to the FERC. The evidence "demonstrates that the intentional amassing of the positions and trading to influence price were not based on normal supply and demand fundamentals, but rather on the intent to effect a scheme to manipulate the physical markets in order to benefit the financial swaps," the agency wrote in its order. Swaps are derivative instruments used to hedge risks or for speculation.
These are rocky times for Barclays as Chief Executive Officer Antony Jenkins attempts to rebuild regulators confidence in the bank. The FERC fine comes on top of—and surpasses—the $438 million the bank agreed to pay for manipulating the London interbank offered rate.
Before it's here, it's on the Bloomberg Terminal.
LEARN MORE