Yahoo! Tries to Get Workers to Walk 100 Miles
By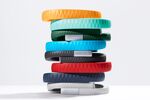 In an effort to whip its desk-bound, tech-loving workforce into shape, Yahoo! is offering free Jawbone Up fitness bands to all employees—with a few conditions. If workers want use the gizmo (retail price: $129.99) to tally their every action while exercising, commuting, sitting, and eating all that free Yahoo food, they must first agree to run or walk at least 100 miles in 30 days.
It's part of a month-long fitness challenge that Yahoo will launch later this summer. (Don't worry, employees still get to keep the device if they fail to complete the 100-mile mission.) "The program is completely optional," a company representative explained over e-mail. "If employees choose to participate, Yahoo! will provide Jawbone's Up bands as a way to track their fitness activity. This is part of our overall effort to support our employees' health and wellness and make Yahoo! the absolute best place to work."
Will the challenge work? Yahoo would not disclose the number of opt-in participants so far. (Hmmm.) Still, Yahoo Chief Executive Officer Marissa Mayer must be optimistic: She became a Jawbone board member in the spring. The device maker sold the wristbands to Yahoo at a corporate bulk rate and presumably relishes the potential attention from an 11,000-employee company.
Yahoo already offers such old-fashioned health resources as onsite fitness centers with classes in yoga, cardio-kickboxing, pilates, golf, and so forth. Even those who work in locations without a fitness center receive $100 quarterly reimbursements toward health-club memberships, according to the company's website. Sure, the wristbands can reveal depressing data about how many hours a person sits in front of a computer monitor and how many doughnuts are consumed. Whether the results can persuade a user to hit the gym isn't something a device can control.
In general, the long-term effect of fitness trackers on sedentary office workers remains unclear. Anne Thorndike, a researcher at Harvard Medical School, told Wired in January that the motivating effect of information, badges, and notifications on activity levels might be short-lived. One study published in 2007 found that people who used pedometers to count their steps move 26.9 percent more. Additional research on how effective these gadgets are at changing lazy habits in the long run are scant, so far.
Despite the skepticism, sales of stationary and wearable fitness tracking devices are expected to increase to more than $2.4 billion by 2016, from $337 million in 2011, according to Parks Associates. The market researcher says that by 2016, more than 32 million U.S. consumers will actively track personal health and fitness online or via mobile devices.