The Trial of 'Fabulous Fab' Tourre Is Putting Jurors to Sleep
By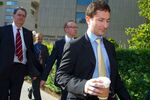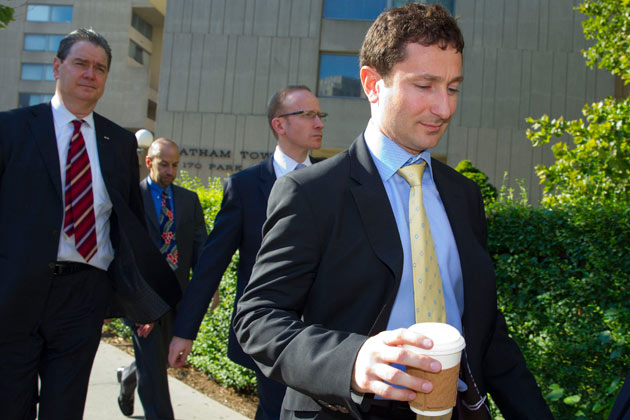 The juror, a middle-aged woman in a cream-colored jacket, grimaced in the direction of the lead defense attorney. Another juror removed his glasses and rubbed the bridge of his nose. A third slumped in her seat, chin sinking steadily toward her chest, conspicuously nodding off for at least five long stretches.
It was 10:35 a.m. The trial of Fabrice Tourre may be riveting Wall Street, but it's boring the crap out of the jury.
"Be gentle," U.S. District Judge Katherine Forrest had urged jargon-prone lawyers at the outset of the case, in which the Securities and Exchange Commission has accused Tourre, a former banker for Goldman Sachs, of defrauding investors in a subprime mortgage product. On the trial's second day, Forrest had to repeat her admonition to speak in lay terms over and over again, as the most high-profile prosecution to come out of the financial crisis risked getting lost in Wall Street arcana.
In the 15th-floor courtroom, the day began with suspicion that even dumbed-down definitions might be too complex. "Isn't there a rule about too many words on a board?" Forrest asked Tourre's lead attorney, John "Sean" Coffey, who was propping up a list of financial terms on an easel. The SEC's and Tourre's lawyers agreed to present the words as "simply a defense stab at boiling things down to something digestible."
"I think the jury's lost," Coffey said, not for the last time that morning.
Lawyers for the SEC and Tourre sparred on what they would be allowed to ask witnesses. Coffey won a request to question one about a "benign" regulatory environment for asset-backed securities. "They're not going to know what that means, so you can put the question in," Forrest said.
Much of the morning was taken up by the testimony of UC Berkeley finance professor Dwight Jaffee, who attempted to explain to jurors the ins and outs of collateralized debt obligations and their derivatives, synthetic CDOs. One such product, known as Abacus 2007-AC1, lost more than $1 billion for investors who thought the subprime mortgage market was healthy. The SEC alleges that Tourre was "principally responsible" for structuring and marketing the deal, and that he misled investors about the role of a hedge fund in picking assets for Abacus that it hoped would fail.
Tourre, dressed in a dark suit with a natty third "ticket" pocket, passed frequent notes to his attorneys on yellow Post-its. At one point, he shook his head emphatically in disagreement as Jaffee testified about whether the Abacus CDO in question had more than a single equity tranche. Coffey didn't get the answer he liked, but Forrest instructed him to go on to the next line of questioning. "That was the danger in going into this," she said. Tourre shook his head some more.
As terms like QIB, WARF scores, and residential mortgage-backed securities came up, the five women and four men on the jury faded in and out of attention. One older woman came back from a break hiding behind a pair of large black sunglasses.
Goldman is paying Tourre's legal tab, which includes the services of Coffey, a former assistant U.S. attorney, and Pamela Chepiga, also a former federal prosecutor. Given the resource mismatch with the publicly funded SEC, it was interesting to note that the agency questioned a witness with the help of a slick, animated PowerPoint deck, while Coffey made do with paper and a black Sharpie marker. "Very 21st century," Coffey said apologetically.
It was during his line of questioning that the jurors' fatigue was most obvious. At one point, Forrest urged Coffey to "try to stick within the heartland" of the case's topic area.
It's in the SEC's interest to explain Tourre's actions as starkly as possible. Confusing a jury is risky—but it may be in Tourre's interest to make the CDO market seem so woolly and fraught that any investors who ventured into it have no right to cry foul about the losses they incurred.
"With my Sharpie, I can't really do this well …" Coffey said, scribbling question marks onto his paper chart. "Back me up on the math here, professor," he added.
"Let's go back to the heartland," Forrest urged Coffey later. "Heartland!"
She added, "I think we're introducing words and terms and concepts that we don't need right now."
Tourre, who has a bright, expressive face, at times appeared to be the most upbeat person in the courtroom.