business
No MBA Internship? Here's What to Do
Francesca Di Meglio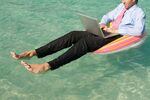 Most full-time MBA students spend their summers trekking to internships, at which they network with bigwigs, hone their skills, and position themselves for full-time offers come fall. A few, however, lack internships. While they might be tempted to lounge on a beach, they'd be better off spending the time filling in the résumé gap potential employers will undoubtedly question. Here are some suggestions on how to make the most of your summer, if you don't have an internship:
Take classes
Continuing with your course work is always an option worth pursuing, says Regina Resnick, associate dean and managing director of the Career Management Center at Columbia Business School. If you don't want to take courses toward your degree, you could take other classes that might round out your skill set and make you a better job candidate. For instance, if you are focused on finance, you could take an operations or risk management elective to gain skills that will help you stand out.
Pick up project work
You don't need an internship to work, says Resnick. CBS students can check in with the Small Business Consulting Program to find a one-time work assignment from a local business that could use a hand. "You can obtain a skill without an internship," adds Resnick. Even without such an organization at your school, you can seek out freelance projects on your own or through such outfits as Hourly Nerd and MBA & Co., which connect MBAs with consulting project work.
Perform community service
Volunteer work, especially the kind that might make use of your business know-how, is an additional way to demonstrate work ethic, practice your skills, and bring value to an organization, says Resnick. MBA students, depending on their specialized skills, could help a nonprofit with fundraising or offer tax advice to those at the local senior center, for example.
Meet people
One of the benefits of an internship is that it affords MBAs an opportunity to network. Without one, you need to replicate those opportunities, however you can, writes Dennis Hanno, provost and senior vice president of Babson College. You could contact those that have jobs you covet and ask to meet for coffee or to have an informational interview. Business school career directors will tell you to start with alumni from your school, who are usually willing to mentor.
Reflect
Deliberating is always necessary. If you could not find an internship, you must assess why you failed and then figure out how to adjust your behavior in time for full-time hiring, says Resnick. If the culprit was a gap in your résumé, determine how to fill it. If you need a "bridge job" to make the transition from one career to another, now is the time to start looking, she adds. Troubleshooting is your priority to ensure success the next time around.
Join the discussion on the Bloomberg Businessweek Business School Forum, visit us on Facebook, and follow @BWbschools on Twitter.
Before it's here, it's on the Bloomberg Terminal.
LEARN MORE