Meet the Snowden of Swiss Banking
By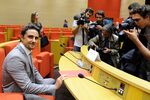 Hervé Falciani blew a gaping hole in Swiss banking secrecy. The former systems engineer at HSBC's private bank in Geneva leaked details on thousands of client accounts to tax authorities in other countries, who say the data has helped them uncover some €200 billion ($260 billion) in tax fraud.
Switzerland considers him a criminal, though. For the past couple of years, Falciani has been hopscotching around Europe, one step ahead of Swiss extradition warrants.
I've been following his case for a while, and I finally caught up with him on Tuesday in Paris. We met at a café across from the Luxembourg Palace—home of the French Senate, where Falciani has been testifying behind closed doors to parliamentary committees investigating tax evasion and money laundering. At the table next to us sat four men, one wearing a discreet earpiece. Falciani explained that they are his bodyguards, assigned to him by the French government because he had received death threats.
Over lunch, he tells a story that has intriguing parallels to the Edward Snowden case—but also some baffling elements. Falciani, 41, says he started his career with HSBC in Monaco, then moved to Geneva, where HSBC assigned him to set up an electronic document-management system in its Swiss private bank. "After a time, I began to see serious problems," he says. "The bank was working mainly to protect its own profitability," while turning a blind eye to tax evasion and money laundering—which, in turn, is often linked to criminal activity and terrorism. Falciani says he alerted superiors to his concerns, but they didn't respond. (HSBC has previously denied receiving such warnings from him.)
Falciani's job didn't give him direct access to client accounts, he says, but colleagues began passing along client data to him. "I wasn't the only one to notice what was going on," he says. Falciani says he attempted to pass along the information to Swiss law-enforcement authorities, but was thwarted because they would not agree to protect his anonymity. Falciani says he then contacted intelligence services in several other countries. Why intelligence services? "I had started having doubts about Swiss justice," he says.
In 2007, he says, he was approached by agents from Mossad, the Israeli secret service. They offered to help him store the client data securely so it could be passed along to authorities in other countries. Why would the Israelis get involved? Falciani says they may have been interested in the clandestine financing of terrorism. However, he says he was never able to verify that the people he met actually worked for Mossad.
The story took another strange turn in February 2008, when Falciani flew to Lebanon. He tells me he met there with representatives of local banks, telling them that he worked for a computer-security company and wanted to alert them to security problems at Swiss banks. Why conceal his identity? Falciani says he was hoping the banks might become concerned about the situation and put pressure on the Swiss to make changes. (A former HSBC colleague who accompanied Falciani on the trip has said Falciani tried to sell information to Lebanese banks; Falciani denies this.)
Swiss authorities learned about the trip and placed Falciani under investigation. In the meantime, Falciani says, he began sharing the HSBC account data with authorities in other countries, including Britain, France, Italy, Spain, and the U.S. Fearing arrest, he fled to France. "I really felt I had no choice," he says. "I have a family, a daughter. I had to draw a line somewhere."
He took a job as an applied mathematics researcher in France, remaining until last year when, Falciani says, he was advised by his intelligence contacts that he was "at risk" if he remained in the country. Fleeing to Spain last summer, he was arrested at the border on a Swiss-issued warrant. However, Spain's National Court on May 8 refused to extradite him, saying his actions were "not considered offenses in Spain." Spain has aggressively used information provided by Falciani to track down tax evaders. In one of the most prominent cases, Emilio Botin, chairman of Banco Santander, agreed to a €200 million back-tax payment on a Swiss bank account, while maintaining he was unaware the account existed.
Falciani, who is half-French and half-Italian, says he decided to return to France because the Spanish courts had vindicated him. "Now I have a judge's ruling behind me," he says. Also, he says President François Hollande and his government are eager to get his advice on how to fight tax evasion and money laundering.
Falciani says he considers Snowden a kindred spirit. Like the former NSA contractor, he says, "I'm willing to take risks, to expose a problem and put in place the structures to fight it." Could his trove of data yield even more big surprises? "Without a doubt," he says. "Most of the investigations are just beginning."
Before it's here, it's on the Bloomberg Terminal.
LEARN MORE