Law School Enrollment Plummets, but Not at Harvard
Paul M. Barrett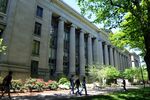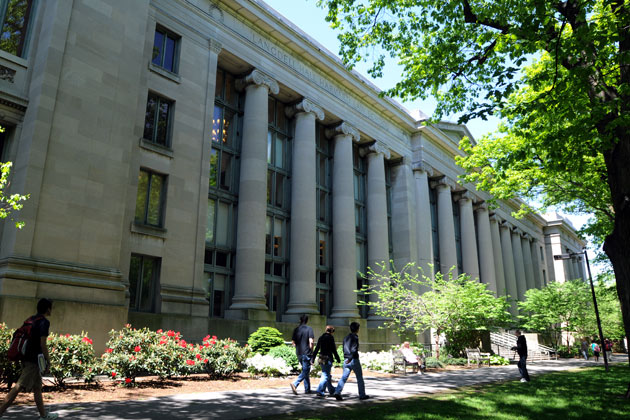 Let's be blunt about the bursting of the legal education bubble: The crisis in the law school economy, long predicted, is devastating third-tier and some second-tier institutions, not the super-elite.
The Wall Street Journal has an illuminating survey of the wreckage. An oversupplied legal labor market has caused applications and enrollments to plummet, followed now by the inevitable shrinkage of bloated class sizes and trimming of faculty head counts. For an excellent and deeper analysis of these trends, check out The Lawyer Bubble: A Profession in Crisis, a book written by former Kirkland & Ellis partner Stephen Harper, which I discussed some months ago.
Look closely, and you'll see that such schools as Harvard, Yale, and Stanford are not really suffering. Enrollment at Harvard, for example, has stayed steady, though it is becoming easier to get in: The school admitted almost 16% of applicants to its class of 2015, compared to an 11% acceptance rate three years earlier.
At schools like Vermont, Hamline, Seton Hall, and Dayton, on the other hand, enrollment is down precipitously. At Hamline, for example, enrollment is down 55% since 2010, according to the Journal. At Seton Hall, it dropped 43% from 2010 to 2012. Schools have responded by cutting class sizes and faculty jobs too.
I intend no disrespect toward those less-august schools. They have historically produced legions of competent counsel, some of whom go on to become business and community leaders. And the message is not that a legal education is worthless. Instead, it's that would-be attorneys who cannot qualify for the most competitive schools may want to think twice about the profession.
Moreover, even those who get into law school and obtain a job at a large firm may find that Big Law has become an unstable work environment.
Bottom line: The legal sector boom has run its course. For those with the skills, inclination, and a steely eyed view of higher education, the better bets in relative terms look to be tech, engineering, and some flavor of entrepreneurship.
Before it's here, it's on the Bloomberg Terminal.
LEARN MORE