Corruption Charges in China Against Glaxo: There's More to Come
by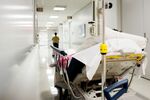 It's "Punch the Foreigner" time again in China. Chinese officials who used  to go out of their way to welcome investment by foreign multinationals have lately taken to singling out the same companies for alleged corruption, price gouging, and other mischief. The spotlight now is on GlaxoSmithKline following news on Sunday that the government was accusing the pharmaceutical giant of all sorts of shenanigans, including bribery and sexual misconduct.
Chances are, the campaign against Big Pharma isn't going to stop with Glaxo. My colleagues at Bloomberg News are reporting that other drugmakers may also find themselves accused of wrongdoing by China's corruption watchdogs. Investigations of foreign pharma companies are likely to expand, according to Willy Wo-Lap Lam of the Chinese University of Hong Kong. "We are only at the beginning of an anti-corruption campaign, which will last for at least one year," he told Bloomberg.
Is this just a fresh case of Chinese officialdom scoring easy points by going after outsiders? After all, multinationals from the U.S., Europe, and elsewhere have become easy targets for Chinese regulators and reporters looking to solidify their populist bona fides by taking a stand for beleaguered local consumers. Among those singled out are big names such as Apple, Volkswagen, and Yum! Brands Most recently, the Chinese government has launched probes of foreign dairy companies in an effort to reduce the  cost of infant formula and additional milk products. Prices for foreign brands have soared in the wake of a series of safety scandals that have soured consumers on local brands.
The new pharma probes amount to more than just socking it to foreigners, though. There's good reason for Chinese officials to try to clean up the country's drug market as the government tries to implement reforms of the health-care system to expand coverage and reduce costs. Traditionally, patients in China haven't had to pay much to see doctors; to make up the difference, hospitals and physicians have, in part, relied on sales of medicines.
Drug sales from in-house pharmacies accounted for about half of hospital revenue, as I reported last year, and markups for drugs sold to patients from those pharmacies can range from 15 percent to 100 percent. Such numbers have helped create an environment in which graft can flourish. "The medical system is a disaster zone when it comes to high-level corruption," Chinese University's Lam told Bloomberg News. Glaxo says it is cooperating with investigators looking into alleged wrongdoing. The company has issued a statement saying it is "deeply concerned and disappointed."
Before it's here, it's on the Bloomberg Terminal.
LEARN MORE