business
Coke's Chilly Earnings: Was It Really the Weather?
By and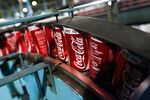 Maybe Coca-Cola needs to hire a meteorologist. Or if it already has, perhaps it's time to expand the drink makers weather department.
The soft-drink giant attributed a disappointing earnings report this morning to crummy weather, along with shaky economic conditions in Europe. All told, Coca-Cola said weather weighed on results in China, Europe and the U.S—three of its biggest markets. Monsoons hurt sales in India, company officials said, and rain took the blame for sales of fewer drinks to Americans. It follows that someone might be more inclined to buy an icy soda on a hot day and less interested on a chilly afternoon—or when faced by rain and even floodwaters, as was the case in Germany in the spring. Coca-Cola Chief Executive Officer Muhtar Kent cited "unusually poor weather conditions" during a conference call on Tuesday, adding: "This is more of an anomaly, we should not see this as a trend or a systemic issue."
But was the weather actually that bad across huge swaths of the planet? In terms of the average global temperature over land, this year recorded the third-warmest May on record, according to U.S. weather data. April was fairly balmy, too, with a global average temperature of almost 48 degrees Fahrenheit, good for the 17th-warmest April on record. (Global data for June isn't available yet.) How about in the U.S., where Coca-Cola gets a huge chunk of its revenue? Average U.S. temperatures from March through June were thoroughly average, though it was pretty rainy.
To be fair, averages can always be deceiving, and Coca-Cola sales may be more sensitive to certain weather patterns than others, or prone to getting clobbered by freak storms. But a 30,000-foot view would seem to apply to a company that sells almost $13 billion of drinks to shoppers all over the world. If Coke really wants to blame Mother Nature for a 4 percent drop in profit and a 2.6 percent slump in sales, maybe it should revisit its aborted plan to adjust vending machine prices by temperature.
Otherwise, the company might spend a little more time talking to investors about customers cooling on soft drinks in general. Soda sales by volume in the U.S. fell 1.2 percent last year, according to Beverage Digest, compounding a 1 percent drop in 2011 and a .5 percent decline in 2010. Coca-Cola outpaced that decline in North America last quarter, with sales of "sparkling beverages"—as the company calls soda—off 4 percent from a year ago.
Meanwhile, sales of such non-carbonated Coca-Cola beverages as juice and water surged by 6 percent. Iced tea, as far as we know, is not necessarily a winter drink. As health awareness shifts consumer perception on soda, however, sales of what the company terms "still" beverages are emerging as a consistent growth segment for the company; their North America sales grew by 5 percent in the quarter, led by strong performance in tea and water brands such as Gold Peak, Dasani, and smartwater. Simply Orange sales were up 4 percent and Minute Maid rose 3 percent.
Despite the shift, Coca-Cola remains primarily a soda company. In the U.S. in 2012, according to a company filing from February, soda represented about 70 percent of sales, while non-carbonated beverages accounted for only 30 percent. The ratio was 75 percent to 25 percent globally, and Coke-brand drinks make up nearly half of all sales. The company has pledged to promote low- and zero-calorie beverages, which represent about 41 percent of its portfolio.
Before it's here, it's on the Bloomberg Terminal.
LEARN MORE