Business Titans Pile Campaign Cash on Spitzer's Opponent
By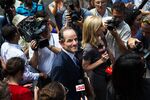 Scott Stringer's campaign to be the Democratic nominee for New York City comptroller was quietly chugging along until Eliot Spitzer made a surprise entry into what had been an uncontested primary race. While Spitzer has since leapfrogged over Springer in the polls, Stringer's fundraising has gained momentum since the controversial rival joined the primary contest.
As New York State's attorney general from 1999 to 2006, Spitzer made a name for himself by aggressively policing Wall Street. He's made clear that's he hopes to use the city comptroller position to take on finance and corporate governance again, this time as an activist shareholder representing the city's $140 billion pension funds. With that record and those ambitions, it's not surprising to find some big names in business rushing to put their money behind Stringer in the days since Spitzer surfaced. Here's a look at some recent donors, according to new campaign filings:
• Orin Kramer, founder and chief executive officer of the hedge fund Boston Scientific, gave $4,950, the legal maximum. Kramer, a major fundraiser for President Obama, used to head the investment committee that oversaw New Jersey's pension funds, which he pushed to make more alternative investments and take on greater risk.

• Susan S. Zuccotti, a Holocaust historian and wife of commercial real estate giant John Zuccotti, gave $4,950 as well. (Yes, he of Zuccotti Park fame.)

• The filings list a "homemaker" named Judith Rubin who lives at an Upper East Side ZIP code (10021) as having given $3,450 to Stringer. According to Nexis public records, only two Judith Rubins reside in that elite ZIP code—one of whom happens to be the wife of Robert Rubin, former Citigroup chairman and President Bill Clinton's Treasury secretary. Crain's New York Business reported in November that Rubin's son, James, was going to advise Stringer's campaign.

• Fundraiser Bill White gave $1,695, and his husband, insurance exec Bryan Eure, donated $2,500. In 2010, White paid $1 million to settle allegations that he aided private equity firms in the New York state pension pay-to-play scandal.

• The Partnership for New York City, which represents the city's business community, gave $2,950 to Stringer. (It had previously given $2,000 to the campaign.) BlackRock's Larry Fink is a co-chairman.

• Marc Jerome, a vice president at the for-profit Monroe College, gave $2,500 (on top of $2,500 he'd previously contributed).

• Shang Dai, a securities lawyer who represents Chinese companies raising funds and financing in the U.S., gave $1,000.
There were also plenty of new donations from unions, which previously supported Stringer, and an intriguing $1,000 from Basil Patterson, former New York secretary of state and father of former Governor David Patterson, who took over after Spitzer resigned amid a prostitution scandal.
The campaign donations have already become an issue in the race. Spitzer can rely on his family's wealth to bankroll his campaign, so he's saying Stringer will be beholden to special interests. Stringer, for his part, says Spitzer is trying to buy his way back into public office. All this noise and barely a week has passed since Spitzer joined the race.
Before it's here, it's on the Bloomberg Terminal.
LEARN MORE