Zimmerman Juror Looks to Cash in With Book Deal
Paul M. Barrett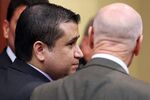 Please, media hounds, in the name of all that's fair and decent: Let the George Zimmerman jurors retain their privacy and get their lives back. Well, except for maybe Juror B37.
She became the first member of the six-person jury to step forward with a big-bucks book proposal based on the just-concluded trial, which saw the former neighborhood watchman acquitted of murder and manslaughter charges in the shooting death of 17-year-old Trayvon Martin. Let's get this bidding war going.
Martin Literary Management announced this morning that it has signed the so-far anonymous Zimmerman juror and her husband, a lawyer, in pursuit of a book deal. No word yet on the cable-TV movie. Literary agent Sharlene Martin explained her aspirations: "My hope is that people will read Juror B37's book, written with her attorney husband, and understand the commitment it takes to serve and be sequestered on a jury in a highly publicized murder trial and how important, despite one's personal viewpoints, it is to follow the letter of the law."
According to Media Bistro's Galley Cat blog, Martin has represented a number of writers who chronicle the sizzle of unlikely celebrity. These include Shanna Hogan, author of the forthcoming Picture Perfect: The Jodi Arias Story. "It is not known," Martin says, "whether [Juror B37 and her husband] will participate in any media at this time or decide to reveal their identities given the sensitivity of the verdict and the outpouring of mixed reactions by the American public." This raises the intriguing prospect of a promotional appearance on 60 Minutes with Juror B37 obscured by one of those shadowy disguises normally reserved for Mafia turncoats who decide to write a memoir.
If the would-be Zimmerman trial authors are expecting a rational reception for their tome on fearlessly "following the letter of the law," I can offer some discouraging advice based on personal experience. This morning, I tried to write dispassionately about the trial. The response, which you can peruse in the comments section of my post, consisted largely of intemperate personal attacks and ideological rants.
Steel yourselves, Juror B37 and Mr. Attorney Husband, whoever you are.
Before it's here, it's on the Bloomberg Terminal.
LEARN MORE