With 'Pacific Rim,' Moviegoers Show Signs of Apocalypse Fatigue
By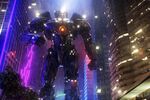 Guillermo del Toro, the Oscar-nominated director known for his visually stunning, fantastical fables that seem to exist on some cinematic plane halfway between a dream and a nightmare, made a $190 million sci-fi tale about mankind's war against skyscraper-size alien monsters that rise from the ocean floor. Released by Legendary Entertainment and Warner Bros., Pacific Rim was, like most of del Toro's work, well-received by critics. But the rock-'em-sock-'em tentpole proved no match on opening weekend against an Adam Sandler-led sequel about 40-year-old bros who get in a fight with their hometown's college fraternity.
With a U.S. box-office yield of only $38.5 million, Pacific Rim's loss to Grown Ups 2 ($42.5 million) doesn't mean movie audiences have lost their taste. Of course, you can't blame anyone for not wanting to see a mash-up of the 1980s B-movie film Robojox and Godzilla on steroids. But the action movie's lackluster performance does suggest there's a limit to the number of noisy summer blockbusters moviegoers can take. While Pacific Rim fared better with $53 million overseas, it was still bested by Despicable Me 2, with $55.7 million. And this wasn't even Despicable Me 2's opening weekend.
This season has seen a glut of over-the-top action sequences with legendary characters (Superman, Iron Man, Tonto) and epic explosions. (If you combine the destruction portrayed in Man of Steel, Iron Man 3, and Pacific Rim, earth in 2013 is largely uninhabitable.) So by the time Idris Elba came around to cancel the apocalypse, a lot of people who were likely to go see the film had already seen something pretty similar the week before. And those 3D tickets can really add up.
It's worth noting we're only about halfway through the summer, and there is plenty more death and destruction on the way. Did you know there's another Wolverine movie coming out? Not to mention Red 2, The World's End, and R.I.P.D., in which Jeff Bridges and Ryan Reynolds save people from weird dead creatures, like Ghostbusters-meets-Men in Black. If you missed Brad Pitt trying to save the human race in World War Z, you can catch Elysium, in which a cyborg Matt Damon tries to do the same thing, more or less.
That's an awful lot of earth-saving to sit through. Maybe that's why so many people were willing to pay to watch Adam Sandler make fart jokes with Kevin James instead.
Before it's here, it's on the Bloomberg Terminal.
LEARN MORE