Who Pays the Price if Verizon Can't Sell Enough IPhones?
by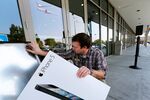 Before they can sell the iPhone, mobile carriers must promise Apple to really sell a lot of them. We may soon see what happens if the carriers can't follow through with those sales.
Moffett Research, after digging into some of Verizon's regulatory disclosures, estimates that the telecom company is selling only about half as many iPhones as it promised Apple it would. The firm estimates that the size of the deal is $40 billion to $45 billion over three years, extending through 2013. Neither Apple nor Verizon has discussed the terms of the deal publicly, and both declined to comment today. (Sprint Nextel also reached deep into its pockets for the right to sell the iPhone but seems set have met its targets, according to Moffett data.)
The bumps along the road draw attention to Apple's ability to use its distinctive appeal to draw up plum deals with carriers. While the specifics are different for each agreement, Apple generally sets a minimum threshold for sales and requires that carriers pay the difference if they can't move enough of its smartphones. While such a commitment may be scary, the thought of not carrying the iPhone seems to be scarier still, judging by the carriers' willingness to sign on. Rival phone manufacturers, such as Samsung Electronics, haven't been able to get Apple-style guarantees.
It remains to be seen exactly how Apple will handle Verizon's apparent inability to fulfill its obligation. "We certainly don't expect that Verizon will have to write a check to Apple for $12 billion or so to make good on its seemingly inevitable shortfall," Moffett Research noted on its blog. "Still, it is likely that Apple would be reluctant to simply ignore these commitments, since many other carriers around the world are likely in a similar boat and a simple amnesty would set an unwanted precedent."
Verizon's shortfall could lead to awkward situations in the future. Apple has been able to force carriers into deals like this because selling iPhones has been really easy. Could that change? Maybe. Apple is continuing to gain market share in the U.S.—it controlled 39.2 percent of the smartphone platform market in May, up from 31.9 percent a year ago, according to ComScore—even while the company has been losing ground abroad. These deals were established to protect Apple against the vagaries of the smartphone market, but it can't be any happier than Verizon if it has to invoke that protection.
Before it's here, it's on the Bloomberg Terminal.
LEARN MORE