Shrimp Market Shaken by Jumbo Plague
by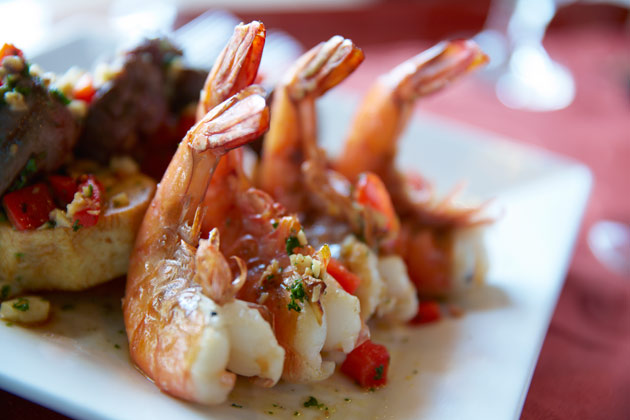 The shrimp supply is coming up short.
Early mortality syndrome, which first surfaced in 2009, has killed billions of shrimp in recent years. Producers in Thailand, the largest shrimp supplier to the U.S., expect exports to fall as much as 50 percent in 2013, as Bloomberg News reports today. The illness has also been reported in China, Malaysia, and Vietnam, according to the Wall Street Journal, and has accounted for a 20 percent increase in shrimp prices in the U.S. in recent months.
Seafood restaurants are bracing for the impact. At Darden, which owns Red Lobster and Olive Garden, seafood accounts for about one-fourth of the total cost of goods sold. "Shrimp is our highest-volume protein," Darden Chief Financial Officer Brad Richmond said during a recent earnings call. The company has shrimp contracts for the next six months at prices higher than fiscal 2013 and expects costs to decline after that. Darden has competed on price in recent years and doesn't plan to increase menu prices yet.
Landry's, which owns Bubba Gump Shrimp and McCormick & Schmick's, is reportedly buying shrimp from other countries—farms in Indonesia, India, and Latin America expect normal production—and is thinking about menu changes. The company declined to comment, but Landry's CFO Rick Liem has said the company "may selectively raise prices."
In the first five months of this year, the volume of shrimp imports to the U.S. from Thailand and Malaysia dropped 24 percent compared with the same January-May period last year, according to data from the U.S. Department of Agriculture. Imports from China and Vietnam were up slightly. Imports from India, which hasn't been affected by the disease, nearly doubled.
Early mortality syndrome kills juvenile shrimp by destroying an organ critical for digestion, SeaFood Business explained, and the disease affects only two commonly raised shrimp species: giant tiger prawn and whiteleg. There haven't been any reports of related human illness, and farmers and scientists are still looking for a solution to prevent the spread of the disease.
Before it's here, it's on the Bloomberg Terminal.
LEARN MORE