business
Michael Kors Tries to Wipe Some Costco Mud Off Its Gold-Plated Brand
By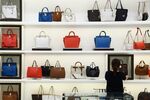 Michael Kors Holdings has jumped from haute couture runways to department stores, but it's still too luxe for Costco. That's the message in a lawsuit from the fashion label that accuses the retailer of falsely advertising Kors handbags.
In the suit, filed July 11, Kors said Costco pictured four Kors handbags in an April 16 e-mail advertisement offering Mother's Day gift ideas. Kors, which called the e-mail a deliberate "bait-and-switch advertising scheme," said Costco was not authorized to sell its bags. And the Costco website doesn't list any Kors products for sale this morning.
But the filing implies that Costco may have legitimately carried Kors handbags at some point. "Any extremely limited quantity of Michael Kors handbags sold by Costco were certainly not offered for sale 'starting at $99,'" it reads. If it turns out that Kors bags were for sale at the store, it could complicate things for the brand.
As a newer public company whose investors are paying for growth, Kors wants to cash in on the middle-market, but it needs to be careful not to tarnish its gold-plated, high-end brand. Since the company hit public markets in December 2011, Michael Kors has grown fast by buttressing its "luxury collection" (i.e., an $18,000 houndstooth mink wrap) with its "accessible luxury collection" (i.e., a $275 tweed jacket). Kors, which brought in $2.2 billion in revenue last year, can stretch its inventory from Bergdorf Goodman to Macy's, and maybe even sell a few perfumes at Wal-Mart, but $99 bags at Costco is probably still too much of a risk to its high-end sales. Here's how Kors explains the dynamic in SEC filings: "Taken together, our two primary collections target a broad customer base while retaining a premium luxury image."
Kors is asking for an amount of damages to be determined at trial; attorney's fees; plus any revenue Costco gained from shoppers who went looking for Kors handbags and bought something else instead. Costco and Kors did not immediately return calls for comment this morning. (This is not the first suit of this kind that Costco has faced: Earlier this year, a Tiffany subsidiary accused the retailer of selling engagement rings labeled "Tiffany" rings, even though the rings did not come from the famous jeweler. Costco countersued about a month later, claiming "Tiffany" has become a generic term for a certain type of engagement ring. The legal scrum is ongoing.)
Meanwhile, Michael Kors is moving to take more direct control of its inventory. It plans to almost double its North American shops to 400, with 50 openings scheduled for next year.
Before it's here, it's on the Bloomberg Terminal.
LEARN MORE