How to Fix a Hole in a Boeing 787
By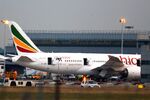 Regardless of what caused the fire aboard an Ethiopian Airlines 787 in London, one thing is clear: The repairs won't be cheap.
The July 12 fire was reported after the plane had been parked some eight hours before its return flight to Africa. British investigators said in a statement (pdf) the day after the fire that the blaze did not appear to be related to the aircraft's lithium ion batteries, the focus of previous fires that led to a three-month grounding of the 787 fleet earlier this year. (Ethiopian Airlines was the first carrier to get its 787s back in the air in late April.)
The fire caused damage to the top of the plane near the tail, with visible charring and hull damage. The U.K. Air Accident Investigation Branch (AAIB) will likely need "days" before it can draw any conclusions about what caused the fire, Reuters reported today, citing a source close to the investigation.
From a broad (and somewhat crude) perspective, carbon-fiber composite repair is typically a matter of determining how much damage there is and whether the best fix is a bonded or bolted approach. A 2008 article in CompositesWorld magazine explains both approaches and is a fascinating read for anyone interested in the 787′s advanced composites or aircraft repairs. Bonding a composite involves curing a replacement onto the airplane with a heat source. In a bolted method, a mechanic will "bolt" a covering over the damaged area and secure it much like in a traditional metal airplane hull repair. The bolt is often a temporary fix to get a plane back into service.
Aside from the cost and logistics of figuring out what ignited the 787—and its repairs—Ethiopian Airlines is also losing revenue for each flight to and from Addis Ababa that the plane is out of service. Representatives at the airline did not respond to an e-mail seeking comment on the incident or its costs. In the two weeks after the Jan. 16 worldwide 787 grounding, All Nippon Airways, currently the largest operator of the model, said it had lost $15 million in revenue on its fleet of 17 787s, or about $63,000 per plane per day.
After the fleet's grounding, Boeing redesigned the 787 battery packs' installation and insists that the airplane is safe, though prone to the same type of early development glitches common to every new airplane. Nonetheless, it seems worth noting that the 787 is the first model in which Boeing outsourced much of the component engineering, including the electronics system.