Harlem Bars Combine Deep-Fried Mac 'n' Cheese, Obama-Tini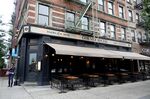 Broad avenues lined with attractive old buildings, many of them home to cafes, bars and restaurants. Where can I be? Oh yes, Harlem.
This Manhattan neighborhood has suffered many decades of poverty and deprivation. These days, you can find welcoming establishments for exotic dishes and cocktails, as well as soul food and home cooking. Here are a few places I tried on a recent visit:
Corner Social: The friendly bar and restaurant serves an alarming-sounding concoction: deep-fried macaroni-and-cheese croquettes with truffle mayonnaise ($12).
Executive chef Jonathan Romans, formerly of Tribeca Grill, seeks to take familiar dishes and give them a twist, so don't be too surprised by cheeseburger spring rolls or the meatloaf sandwich with Grafton Vermont cheddar.
Or you could just settle in at the bar and hand control to the affable cocktail mixer Carmen Operetta. (On Twitter, Carmen is @libationdiaries.)
A 321 Pineapple (Skyy pineapple vodka, pineapple juice, fresh lemon juice, creme de cassis, simple syrup) and a Peach and Almonds (Ciroc Peach, Amaretto di Saronno, orange juice, fresh lemon juice) helped while away an afternoon. The cocktails are $12. The check for one was $65.33, plus tip.
Corner Social is at 321 Lenox Avenue, 10027. Information: +1-212-510-8552 or http://cornersocialnyc.com/.
Red Rooster: Opened in 2010, it's become the top place to experience the cultural diversity of Harlem. Chef Marcus Samuelsson was born in Ethiopia and raised in Sweden. He studied cooking in Gothenburg, where he grew up. He then worked in restaurants in France and moved to New York in 1994, with an apprenticeship at Aquavit.
There's a casual area at the front, where you may find yourself sharing a high table. Having said that, the back is hardly fancy.
I started with an Obama-Tini, featuring Wodka Vodka, crushed pepper flakes, pineapple, lime, grapefruit bitters, angostura bitters ($13). Or how about some wine on tap for $10? I had a glass of Paumanok New York rose. It was fine.
The menu is best described as eclectic. I skipped chop suey and Helga's meatballs in favor of two starters: fried green tomatoes with iceberg lettuce, bacon and buttermilk dressing ($13) and dirty rice & shrimp with aged basmati, curry leaves, almonds ($18) plus a side of spicy wings, with lemon yogurt and habanero salsa. Now, that's what I call a lunch.
Desserts include dark chocolate cheesecake, layers of devil's food, frozen raspberries, warm white chocolate and mint-tea sauce ($11). I gave that a miss. The food was good, the service friendly and the bill for two was $141.27.
Red Rooster is at 310 Lenox Avenue, 10027. Information: +1-212-792-9001 or http://redroosterharlem.com/.
Sylvia's: Founded in 1962 by Sylvia Woods, "Queen of Soul Food," it's been the magnet for hearty eaters from all over town. (When Woods died last year, the Rev. Al Sharpton said he recalled dining there with everyone from President Barack Obama to Caroline Kennedy, the New York Daily News reported.)
The tourists still come, but the ambience felt authentic enough to me. You can sit at a counter and grab some food and a beer, or there is a more formal dining area across two rooms that appears untroubled by renovation.
I ordered a beer and a Harlem-style fried chicken and waffle. (That costs $11.95, or you can have all white meat for $1 more.) This signature dish is beloved of diners and has been a favorite for decades. I enjoyed the experience more than the food. But it's certainly filling. Everyone should go to Sylvia's -- at least once. Bill for one: $20.63.
Sylvia's is at 328 Lenox Avenue, 10027. Information: +1-212-996-0660 or http://sylviasrestaurant.com/.
5 and Diamond: This venue on Harlem's restaurant row says it uses fresh ingredients from local farms, markets and purveyors to create a seasonal American menu.
I went for brunch, which features a $20 prix-fixe menu, including a cocktail. Or, for another $10, you can have unlimited brunch cocktails for 60 minutes. Rarely has $10 been so well spent.
There are large windows looking out onto the street and it is enjoyable just to take in the sights on a sunny morning in Harlem. The service is laid back, yet efficient. Highlights of the a la carte menu include blackened catfish with white speckled grits, bacon-braised collard greens; grilled pork chop with red quinoa, molasses bourbon glaze; 5 and diamond donuts.
5 & Diamond is at 2072 Frederick Douglass Boulevard, 10026. Information: +1-917-860-4444, or http://www.5anddiamondrestaurant.com/.
Melba's: This small restaurant was founded in 2005 by, Melba Wilson, who describes herself as Harlem born, bred and buttered. She previously worked at Sylvia's, as well at Windows on the World and her aim is to make Melba's feel like home.
When I was there for Sunday brunch, that was the style, with groups of friends -- many in their finest frocks -- eating together and just enjoying each other's company.
You can choose between grits, home fries and French fries with your main. I ordered a salmon croquette with grits and a Chambord royale cocktail. The bill? $22.81.
Melba's is at 330 West 114th Street, 10026. Information: +1-212-864-7777 or http://melbasrestaurant.com/.
(Richard Vines is the chief food critic for Muse, the arts and leisure section of Bloomberg News. He is U.K. and Ireland chairman of the World's 50 Best Restaurants awards. Opinions expressed are his own.)
Muse highlights include Richard Vines on food, Jorg von Uthmann on French culture, Elin McCoy on wine, Robert Heller on music and Craig Seligman on books.
Before it's here, it's on the Bloomberg Terminal.
LEARN MORE