At Beijing Job Fair, China's Millennials Fret About Their Future
Christina Larson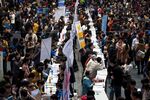 Beads of sweat roll down Yang's face as he nervously fingers the stack of résumés in his hand. On a Sunday morning in mid-July, he and several hundred other recent college graduates—plus a smattering of anxious parents—swarm recruitment stands inside Beijing Worker's Gymnasium at one of several mid-summer job fairs in China's capital; the air feels hotter and muggier inside than out.
Yang, who gave only his family name, strolls quickly past white stalls for insurance companies, real estate firms, and the Beijing Auspicious Culture Communications Co. Posters outside each one describe the basic requirements for telemarketers, HR managers, and event planners, but Yang isn't interested. He graduated from Beijing Technology and Business University this spring with a degree in international business, and still hopes to find a job with a multinational company in that field. He estimates half his peers from the Class of 2013 are still seeking employment—all well aware that China's state media have already repeatedly dubbed this year the "hardest job-hunting season for college graduates."
Over the past decade China's government has pushed for rapid expansion of higher education; the country's leaders aim to upgrade the labor force and tilt the economy away from low-wage manufacturing. This year, 6.99 million students graduated from universities in China, up 190,000 from last year. There are nearly four times as many graduates in 2013 as there were 10 years ago. But the demand for young professionals in China hasn't risen nearly as quickly. One government study from last winter indicated that the unemployment rate among 21- to 25-year-old college graduates was 16 percent, four times the official urban unemployment rate.
This spring, China's economy slowed to an apparent 20-year low; GDP growth in the second quarter slipped to an estimated 7.5 percent. Hiring seems to have slackened as well. The Ministry of Education surveyed 500 large Chinese firms in February about their recruitment plans. The ministry estimates that 15 percent fewer positions will be offered to new graduates this year than last, as Xinhua reported.
Ms. Cai, a wiry woman in her 50s wearing a prim green blouse and brown dress pants, also strolls around Sunday's job fair—unbeknownst to her daughter, a recent graduate in finance. But Cai feels compelled to help, or try to help, her only child's prospects, to the bemusement of some recruiters. She is busy collecting pamphlets at one stall when gray-haired Mr. Zhang walks by; he is a father making the rounds, with his son's résumés in hand.
Yang, the international business major, says he is hoping for a starting monthly salary of 3,000 renminbi ($487). Another job-seeker, who studied software, said 2,500 renminbi ($405) would be OK. That figure is comparable to the average monthly wage of migrant factory workers, which the government-led All-China Federation of Trade Unions calculates as 2,290 renminbi ($372) in 2012. The low salary expectations are also indicative of how an apparent oversupply of college graduates in China has torpedoed their value in the marketplace.
Even with job fairs packed, it's still common to hear recruiters in China complain they can't find suitable candidates. Mr. Gao, a bespectacled recruiter for a high-end clothing distributor, stands beside a poster of the company's founder shaking hands with President Xi Jinping. (Judging from the waistline, it appears to be a much younger Xi.) Gao is looking for sales reps and has collected dozens of résumés in a few hours, but he laments the caliber and attitude of applicants. The most essential factor in the hiring process is not the student's major, but his or her "capacity"—or willingness to work hard and learn new skills. "China has many talented people, but it is hard to find persistent ones," he says.
A frequent refrain among recruiters is that China's educational system ingrains rote memorization, not problem solving, which creates better test-takers than office workers. In a 2013 survey (PDF) of American businesses operating in China, respondents told the American Chamber of Commerce in Shanghai that the "shortage of qualified employees" and "shortage of qualified managers" ranked as their third and fourth greatest concerns, respectively (following only worries about rising labor costs and a Chinese economic slowdown).
One booth at the Beijing job fair is advertising positions for translators and logistics managers in Africa; right now it isn't drawing a crowd. However, Ms. Pan, a petite recruiter fanning herself with a brochure featuring a map of Africa, isn't too worried. "Each year most of our recruits come in the late summer and fall," she says, "after graduates get very desperate and feel they have no more options."
Before it's here, it's on the Bloomberg Terminal.
LEARN MORE