AT&T Will Buy Leap for Spectrum and Get Low-Paying Customers
by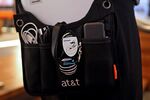 Until this year, the U.S. market for mobile service was divided into two kinds of companies. AT&T, Verizon Wireless, and T-Mobile hold enough spectrum to build a national network. They focus on customer retention through long-term contracts and what the industry calls "revenue per user," a euphemism for how much they could get out of a customer after locking her into a contract. Companies such as Leap Wireless International and MetroPCS offered only pockets of spectrum, city by city. To win new customers and compete with the big three, they had to charge less and get rid of the burden of a one- or two-year contract.
When asking the Federal Communications Commission for permission to buy T-Mobile last year, AT&T urged the commission to focus on what it called "regional" competition—the number of companies by regional market, rather than the number of companies that could compete with AT&T nationally. The FCC decided not to think regionally and turned the merger down. Competition between AT&T and Leap was not real competition. The two companies offered different products.
This leaves AT&T, now that it has announced its intention to buy Leap Wireless for $1.2 billion, with a problem.
"This not only improves our spectrum position, it advances our offerings in prepaid service," says Brad Burns, a spokesman for AT&T. "We'll make the prepaid market more competitive. Leap's customers will be able to ride on our fast LTE network." AT&T will win even more spectrum with the deal in the densely populated areas where it's having difficulty meeting current demand. (It could invest in more towers to use the spectrum it has better, but that's a different complaint.) It will also, unfortunately, have to square two completely different approaches to mobile service.
On its national network, AT&T will now have regional customers, used to paying less with no contract. The way Burns describes it, Leap's customers will be thrilled to get something more. But they are unlikely to be thrilled to pay more for it. It's hard to see what Burns means by "making the prepaid market more competitive," since it was competition and the desire to win new customers that had already driven down prices in the prepaid market before AT&T showed up.
Give the regional customers a national network, and suddenly AT&T's existing national customers will be wondering why they have been paying so much for a two-year contract. (I will be, at least. I have have an absurdly expensive family contract with AT&T out of a kind of historical entropy that's hard to justify.) AT&T will have to choose whether it wants to win new customers with lower prices, as Leap has been doing, or continue to get the most it can out of the customers it has.
Mobile telecom mergers are often described as a "spectrum play." Spectrum, the most valuable resource in the industry, is so important that all of a target company's other assets almost don't matter. AT&T can't just swallow more spectrum and call it a day. It will have to do some navel-gazing and figure out what kind of a mobile-service provider it is. History suggests that the company will not decide to compete on price. Good luck, Leap customers.
Before it's here, it's on the Bloomberg Terminal.
LEARN MORE