America, This Bastille Day, Take a Victory Lap
By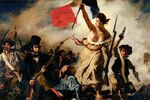 Prime Minister Jean-Marc Ayrault has rejected a call for a rethink in the shale gas debate and said the government will not allow its exploitation in France. … New Ecology Minister Philippe Martin said there was no such thing as "ecological" exploitation of shale gas and received support from Housing Minister Cécile Duflot, of the Ecology Party.
—"Prime Minister Rejects Shale Gas, " The Connexion, July 12, 2013.
"For years we have been the most pessimistic country in Europe, in the world even. There are countries at war that are more optimistic than we are," Hollande told journalists from TF1 and France 2 television after attending the traditional Bastille Day military parade down the Champs-Élysées.
Michael Mainville, "French Economy Recovering, Says Hollande," AFP, July 14, 2013.
France is lost. It is not the France of de Gaulle. It is not the France of Eisenhower and Bradley.
I have this, off microphone, from more than a few French elites. Their apolitical rejection of François Hollande is original in its force. The above, stunning observation by President Hollande speaks volumes.
Meanwhile, the prime minster has chosen not to frack France. I am not qualified to opine on the North Dakota-izing of the Massif Central other than to suggest that a nation's confidence has something to do with risk. We can all agree that hydrocarbon exploration involves risks.
Greece, Cyprus, Spain, and Portugal. Turkey, too. We focus on their tangible sweat. Focus on riskless France. All this, while an imperfect U.S. measures the ambiguities of uncertainty and simply … does. With debate and friction, we are the land of do.
America's relative and absolute confidence is rising. America, this Bastille Day, take a victory lap. Discuss.