Why Not Participate in the Banks' Good Fortune?
by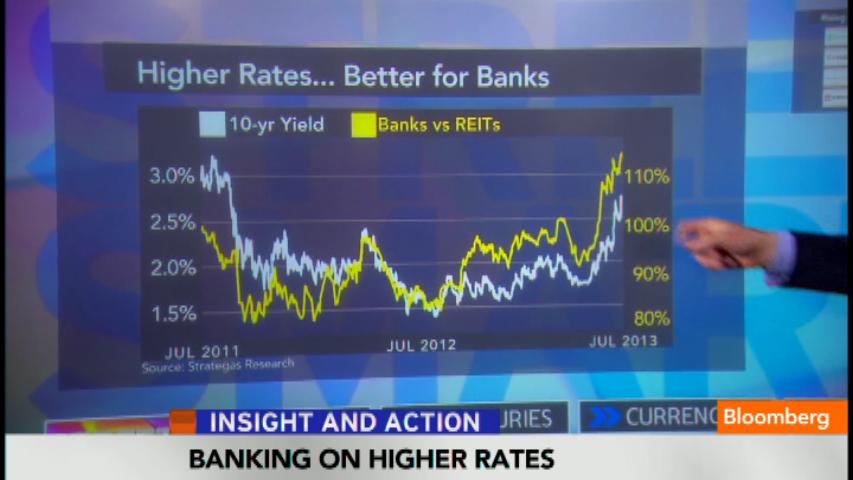 I hope you refinanced your home loan in May when Bankrate.com's 30-year fixed-rate mortgage bottomed at 3.4 percent. It's 4.6 percent today. The move parallels a dramatic rise of the benchmark 10-year bond yield since May 22, when Fed Chairman Ben Bernanke first discussed tapering the central bank's bond purchases of $85 billion a month.

Rising rates probably shouldn't surprise any of us. Unprecedented buying by the world's central banks can't last indefinitely, especially as economies begin to show signs of healing -- like the U.S. creating 195,000 new jobs two months in a row.
Simply put: banks lend, people and businesses borrow. So lenders benefit from higher rates, arguably at the borrowers' expense. This isn't a criticism, merely a statement reflecting supply and demand. Banks have money while the rest of us need loans, and the market sets an appropriate interest rate, in the absence of Fed intervention. You can see the relationship quite clearly in the ratio between banks and REITs (lenders vs. borrowers).

As rates rise, banks outperform REITs. The relationship makes perfect sense, as Strategas Research shows.
We can participate in the banks' good fortune by buying home lenders with solid balance sheets, rising earnings estimates and stocks priced at or below book value. Let's highlight eight banks where analysts have raised numbers in the past four weeks.

Several additional banks trade at/below book value, though we excluded them from our on-air presentation because analysts haven't increased their estimates for them recently: Bank of America Corp. (BAC), Citigroup Inc. (C), JPMorgan Chase & Co. (JPM), Regions Financial Corp. (RF), Synovus Financial Corp. (SNV), SunTrust Banks Inc. (STI), Wintrust Financial Corp. (WTFC). Blog readers may find them attractive -- and for sticklers who prefer the more stringent measure of "tangible book" (which excludes hard-to-value assets like goodwill and patents), please note Bank of America, Citigroup and Synovus Financial all make the cut.
Before it's here, it's on the Bloomberg Terminal.
LEARN MORE