Vroom. Vroom! VROOM!! Vroom. On the Southampton Autobahn
By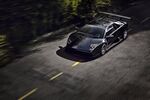 Main Street in Southampton is a funny place. Not for what a scoop of ice cream costs at St. Ambroeus, or for the Brooks Brothers window mannequins who appear to be barbecuing a stack of polo shirts, but mostly because of the ferocious cars going nowhere slow.

Ferraris. (Town speed limit: 25 mph.) Lamborghinis. (Town speed limit: 25 mph.) Maseratis. (You know the town speed limit.) Rows of supercharged machines, capable of screaming acceleration and speed.
And there they sit.

Engines burbling at a stoplight.

Busting like Chuck Yeager to pierce the 45 mph barrier.
That's on the adventurous route to the beach.

Amid the heaps of unrealized dreams and wasted engineering is some good news. At least driving a beautiful monster that slowly for that long won't damage its engine. "Sure, they're meant to be driven at high speeds," says Vincenzo Latino, the owner of Auto Elite, a Tenafly, New Jersey, garage specializing in Ferraris. "But even if they go 25, 30 miles an hour, nothing will happen to the engine."

Not if it's a new car with direct injection. If you've got a classic Ferrari with a carbureted engine, you might be driving it to suicide.

"The old cars from the '60s suffer at low speeds," says Latino, "because the electronics were not what we've got today."

Stephen Arena, owner of Arena Motors, a Ferrari and Lamborghini specialist, says, "They're obviously designed with the speed limit in mind. It doesn't have to be driven at high speeds." On the other hand, he says, going fast breaks in the engine. "You can always tell when a car is driven hard," Arena says. "It seems to drive a bit nicer."

So why the palisade of groaning speed machines stacked up at the light?

"It's male enhancement, that's all it is," says Arena. "Most of the guys can't drive them like they're meant to be driven. And then the guys have the car and they want to put a turbo in it." To get to 25 mph that much faster? "Just to say, 'Mine's bigger,' " Arena says. "They just want to cruise around and be seen."

That's it?

"Listen," Arena says, "on the way out to the Hamptons, they let loose."
James Tarmy reports on arts and culture for Bloomberg Muse, the arts and leisure section of Bloomberg News.