Utilities Have Built a Cushion Against Higher Rates
by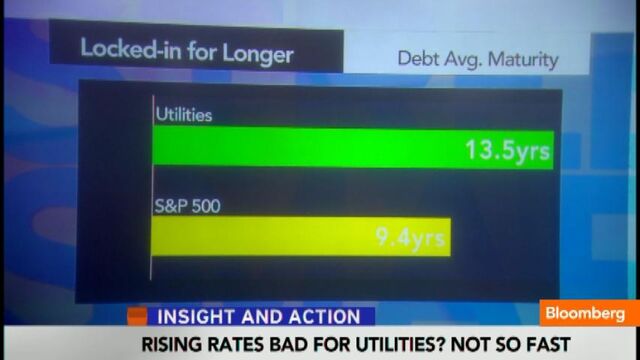 Think rising rates are bad for utilities? They aren't right now.
Utilities typically fund operations and expansion with debt because predictable revenue from electric consumption dovetails with regular debt-service payments -- cash coming in vs. cash going out. Since utilities are highly regulated and unable to raise prices easily, their already thin operating margins get squeezed when rates rise too quickly.
However, this time it's different, in part because utilities have gotten way ahead of the curve.

Utilities average maturity is 4.1 years longer than the average for the S&P 500, meaning they have more of a cushion before higher rates bite into profits. This relative advantage is now in focus as the 10-year yield has rallied 90 basis points since late May, prompting analysts to rethink earnings forecasts. Analysts have raised estimates on 15 of 31 utilities in the S&P Utility Index since mid-June, compared with just eight where they've lowered numbers. This ratio of 1.9 estimate increases to each decrease ranks the highest of all S&P sectors.

So analysts are positive, stocks are down -- and therein lies the opportunity. The Utility ETF (XLU) has fallen 10 percent since May, even as the S&P 500 hovers within 1 percent of its all-time high.

For blog readers who prefer individual stocks to the ETF, the following seven companies have seen the largest earnings increases: Integrys Energy Group Inc. (TEG), Edison International (EIX), PPL Corp. (PPL), Dominion Resources Inc. (D), American Electric Power Co. (AEP), Pacific Gas & Electric Co. (PCG), CenterPoint Energy Inc. (CNP). Eight additional companies complete the list: Sempra Energy (SRE), NestEra Energy Inc. (NEE), Scana Corp. (SCG), AES Corp. (AES), Consolidated Edison Inc. (ED), FirstEnergy Corp. (FE), The Southern Co. (SO), Exelon Corp. (EXC).
Before it's here, it's on the Bloomberg Terminal.
LEARN MORE