Tech Investing Is Not Just About Apple
by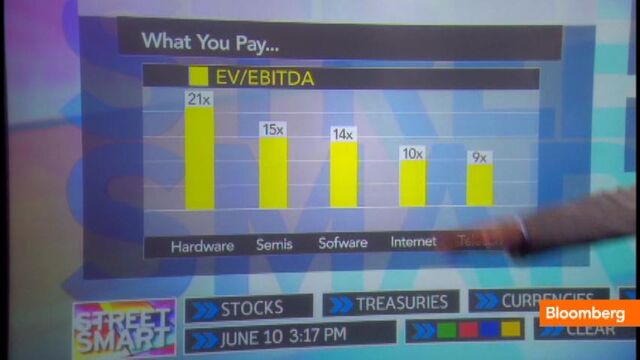 There are 190 technology companies in the S&P 1500 Composite Index, and today only one mattered. Apple has accounted for 1,000,000+ searches on Google in the past 18 hours. That's 20 times more than the second most searched topic, "Games of Thrones, Season 4 Finale."
Yes, iRadio is very exciting. And so are some of the other 189 companies -- especially the following ten:

People talk endlessly about product innovation at Apple, but in fact the earnings forecast of 68 analysts tracked by Bloomberg indicates a 10 percent decline this year. Apple may have new products, but not new profits. So we removed our Apple blinders and searched for technology companies with the highest growth at the lowest price -- hence our Top 10.
Getting there took some time and illuminated some other fascinating insights. Firstly, there are five tech sub-sectors that operate completely different businesses. Secondly, they receive very different valuations in the current market:

Also, high valuation doesn't necessarily correlate with high growth. Quite the opposite in fact. Hardware and semiconductors have the highest valuations yet have the worst growth. Semiconductor earnings are even forecast to decline this year:

We culled our Top 10 from the software and Internet sub-indexes, since they appear to sit in the sweet spot for growth and valuation. It's intriguing how few of them are household names. Apple is nowhere in sight, by the way.
We limited our I&A segment on-air to ten names. So, as an added bonus for blog readers, here are a few more: Advent Software Inc. (ADVS), Cadence Design Systems (CDNS), CommVault Systems Inc. (CVLT), NIC Inc. (EGOV), Bottomline Technologies de Inc. (EPAY), PTC Inc. (PMTC), Synopsys Inc. (SNPS), Tyler Technologies Inc. (TYL), VeriSign Inc. (VRSN).
The point here is simple: Apple gets a let of air-time, but plenty of other companies may offer better upside. Happy tech investing.

Before it's here, it's on the Bloomberg Terminal.
LEARN MORE