Some Banks Look Undervalued Even After Year-Long Rally
by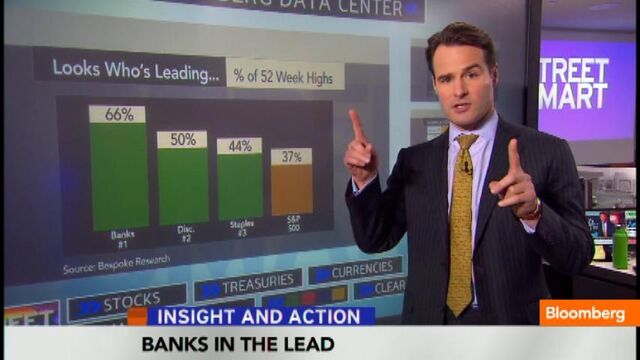 More banks are making new 52-week highs than any other industry group in the S&P 500 Index:

Banks have rallied 40 percent in the past year, the most of any sector in the index. That's a strong performance indeed, and yet banks are still historically cheap on a price-to-book-value basis, trading at 1.2x versus a twenty-year average of 2.0x.

Now, what if we could buy them even cheaper, at a discount to book value? Remember, book value is defined as assets minus liabilities and is a measure of intrinsic value. It comes down to the value of desks, computers, property, etc., minus all the debt and IOUs. So, buying banks at below book value should provide us with a decent cushion, and presumably some room to run.
With this in mind, here are ten stocks trading below book value and making new 52-week highs. They're cheap and they're rising.

Also note several banks that nearly made our list, but were omitted on-air as they're trading above book. We share them with blog readers because they are also trending higher and growing earnings: Comerica Inc. (CMA), Central Pacific Financial Corp. (CPF), First Interstate Bancsystem Inc. (FIBK), FirstMerit Corp. (FMER), The PNC Financial Services Group Inc. (PNC), Sandy Spring Bancorp Inc. (SASR), and Sterling Financial Corp. (STSA).

It's rare to find value and momentum together.

Before it's here, it's on the Bloomberg Terminal.
LEARN MORE