Running With the Bond Bulls, Close on Bernanke's  Heels
by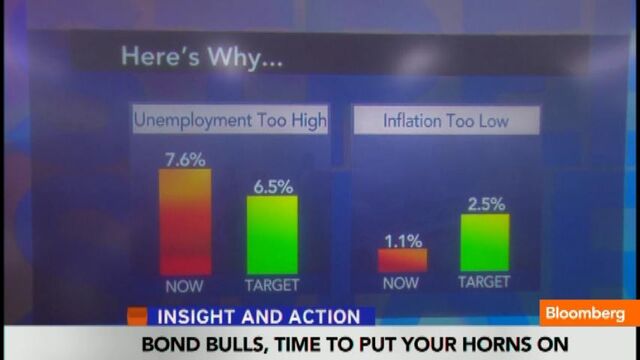 You couldn't make this up: Fed Chairman Ben Bernanke gives bond bulls the ultimate reason to come out of hiding the very same week Spaniards cheer the annual Running of the Bulls in Pamplona. Ole!
Futures are surging as Bernanke makes clear he's not about to turn off the spigot any time soon.

Call it a "restatement of mission" after global stock and bond markets sold off May 22, when Bernanke first uttered the terrible T word (Taper... Shhhhh!). In fact, we probably got too far ahead of ourselves, from Pamplona to Wall Street. The Fed chairman has already told us multiple times he's watching very specific thresholds, and the Fed's policy won't change until he sees quantitative signs of improvement. Make no mistake, the Fed's a buyer.

So what do you buy? Stocks, bonds and commodities are all benefiting from Fed largess -- so many choices, so little time. Let's keep it simple and focus on bonds, as that's what the Fed is buying. Also note that bonds haven't rebounded, unlike stocks, where bulls have already charged through the corral. There are three clear candidates for bond buyers:

Blog readers will also appreciate this morning's comment from Joe Kalish, bond guru at Ned Davis Research:
"The Barclays Index lost over 250 basis points in June, falling the most since September 2011. High yield posted its first negative excess return in 13 months. As a result, yields rose and spreads widened. Our Junk/Baa ratio moved back to the bullish zone... we find yields attractive around 7 percent."
Attractive indeed -- 7 percent yields are hard to find, and defaults are at an all-time low of 2 percent. Good time for bond bulls.
Before it's here, it's on the Bloomberg Terminal.
LEARN MORE