Penn State Football's Sexual Abuse Scandal Just Gets Weirder
Paul M. Barrett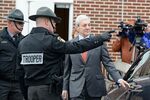 Some kind of mass insanity has descended on Happy Valley. That's how Penn State loyalists refer to the once-proud community surrounding the scandal-plagued football powerhouse. But these days, it's not a happy place.
The latest: Penn State's disgraced former president, Graham Spanier, has filed formal notice that he plans a libel suit against Louis Freeh, the former FBI director whose university-commissioned investigation blamed Spanier for participating in a cover-up of the depredations of Jerry Sandusky, a convicted child sex abuser and former assistant football coach at Penn State.
At this stage, one might think Spanier had more immediate concerns than trying to undermine a highly respected former law enforcement official. For one thing, Spanier himself faces criminal charges, including endangering the welfare of a child in connection with a 2001 sex-abuse allegation against Sandusky. Yet no: Like other fallen members of the Penn State elite, Spanier is indignantly drawing more attention to the egregious Sandusky scandal by attacking the former federal judge Penn State invited to get to the bottom of the moral corruption infecting its vaunted sports empire.
Sophia Pearson of Bloomberg News reports that Freeh declined to comment directly on the Spanier suit, citing the pending felony charges against the ex-university president. Freeh did have this to say:
"Over the past year, Penn State has made a dedicated effort to reform the problems that led to Mr. Sandusky's ability to victimize children on the university campus," Freeh said in an e-mailed statement. "I trust the changes and improvements that Penn State has put in place will help to build a constructive and protective environment where children will not again suffer abuse."
Freeh's report a year ago found that Spanier, former head football coach Joe Paterno, and two other senior Penn State officials hid critical facts surrounding Sandusky's serial child abuse. Spanier and Paterno were fired in November 2011 (although the Associated Press notes that Spanier remains a Penn State faculty member on administrative leave). Paterno died in January 2012.
Sandusky is serving a minimum 30-year sentence for sexually abusing 10 boys over 15 years. He committed some of the crimes in campus buildings while he was employed by the university. Spanier and two other former university officials—former athletic director Timothy Curley and Gary Schultz, an ex-vice president in charge of the campus police—were criminally charged last November.
Here's some more helpful background from Bloomberg's Pearson:
"Freeh's report, released after a seven-month investigation, found that red flags involving Sandusky were numerous and that Spanier and others ignored them … to avoid bad publicity. Attorneys for Spanier have called the findings a 'flat-out distortion of facts' infused with bias and innuendo. A state court judge has scheduled a preliminary hearing for Spanier, Curley and Schultz beginning July 29 to determine whether there's enough evidence to hold them for trial. All three are out on bail."
Rather than spewing libel allegations, Spanier could humbly try to convince the judge that his shortcomings in failing to supervise his university's football program didn't constitute full-fledged criminal conduct and that he shouldn't join Sandusky behind bars. Instead, Spanier bizarrely invites the entire world to revisit the sordid affair via a libel suit he will almost certainly lose.
Why will Spanier lose? First, Freeh can't possibly be held liable for publishing the results of an investigation he undertook at the request of a university trying desperately to find out who knew about violent criminal child abuse on campus. And second, Spanier's reputation took a devastating hit when he was charged criminally by the Commonwealth of Pennsylvania. That prosecutors agreed with Freeh would seem to protect the former FBI honcho from an accusation of falsely defaming Spanier.
Rationality doesn't reign, however, in certain circles in central Pennsylvania. I wrote in May about the Paterno family's suing the National Collegiate Athletic Association over penalties against Penn State related to the Sandusky scandal. "With that action in a state court in Pennsylvania," I opined, "the concept of shame, long ailing in American society, gave up the ghost." The response to that piece from Paterno fans was vitriolic (check out the online comments appended to the post) and continues to this day.
I'm sure my writing about the Spanier libel suit will unleash yet more animosity among Penn State followers who see outside criticism as stemming from a malicious conspiracy led by Freeh. It's all very odd and very sad. Bring on the flaming e-mails.
Before it's here, it's on the Bloomberg Terminal.
LEARN MORE