Lessons From the Pebble Smartwatch Debacles
by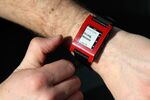 If there's a single lesson to take from the frustrations facing Pebble, the fabulously in-demand smart watch startup, it is this: Hardware is hard.
In many ways Pebble resembles software startups that go from a glimmer in an entrepreneur's eye to Internet sensation seemingly overnight. The team building the watch raised $10 million on Kickstarter, the crowdfunding website, and outraced big companies such as Samsung and Sony that seemed well-positioned to dominate the wearable computing market. Venture capitalists showed up to the party, adding $15 million to Pebble's coffers. The young company opened an office in Palo Alto, Calif., to accommodate its rapidly expanding staff, plying engineers with equity and unlimited vacation time. And a distribution deal with Best Buy seemed to indicate a startup on the verge of moving from early adopter craze to mainstream consumer product.
But shipping watches is different from deploying code. Pebble is straining to meet its commitments to the nearly 69,000 people who backed it on Kickstarter, most of whom were expecting one of the devices in exchange for the support. There have already been complaints from people who haven't received their watches; some have argued that selling the smart watches through a regular retailer seems like a betrayal to Kickstarter believers whose wrists remain naked. "While Pebble rose to fame by being one of the first and best-looking of this new breed of hardware, it completely dropped the ball when it came to delivering, and rubbed salt in the wound by spurning its backers for a Best Buy deal," wrote Nick Statt on the tech blog ReadWriteWeb, explaining why he was canceling his pre-order.
Even distribution through Best Buy has not been entirely smooth. Sales are backlogged, even though Pebble says that the big box chain hasn't exhausted its inventory. "Unfortunately we are not in control of the actual distribution of Pebbles into each Best Buy but we're working with them to help improve the flow," Eric Migicovsky said Thursday in a Q&A forum on Reddit.
You can bet that Pebble's competitors won't have the same problems. Companies such as Apple , which are used to shipping hardware, are going to have a huge advantage in serving customers. Even relatively large manufacturers like Nintendo and HTC have had trouble getting their products in the hands of people who want them. If Pebble were a software startup, on the other hand, it would arguably be in in a better position to distribute new services than large companies because it wouldn't be so leaden with bureaucracy. Network effects have also bestowed huge advantages on software-based services that are the first in their class to capture the public imagination. This is why venture capitalists have generally been more interested in pitches about disrupting markets through software than in ideas for new gadgets.
Pebble said on Thursday that it has taken orders for 275,000 smart watches and has shipped 93,000. That's quite a feat for a few guys that just last May were seeking $100,000, just to give this idea a shot. The company's success qualifies it as the flag bearer for a new generation of tech startups that build physical things. With the glory comes harsh reminders of why so few companies have been able to accomplish what Pebble is trying to do.
Before it's here, it's on the Bloomberg Terminal.
LEARN MORE