Japan, Land of the Rising Stocks
by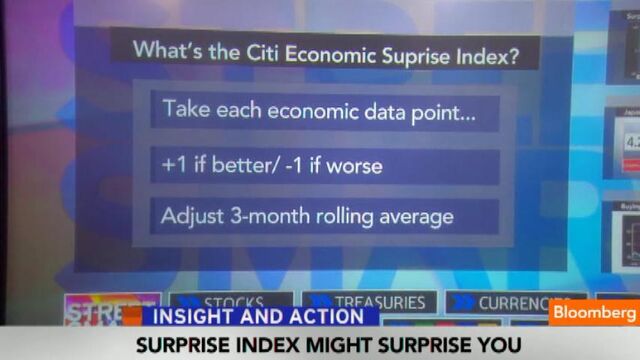 I like surprises.
Today I'm especially surprised by the Citigroup Economic Surprise Index for Japan, a running average of all economic data released during the past three months in the Land of the Rising Sun. The calculation is fairly straightforward: if a specific data point is better than estimated (such as GDP, jobless claims or housing starts), the Citi research team adds one point to their tally. If the data are worse, they subtract a point.

Citigroup tracks data all over the world, creating surprise indexes for multiple countries and regions. Again, the latest results are a surprise:
Surprise indeed. Japan is way ahead of the entire world. Credit Prime Minister Shinzo Abe's $106 billion stimulus package and Bank of Japan Governor Haruhiko Kuroda's commitment to double the monetary base over the next two years. If you throw enough money at the problem...
Anyway, all that money is having a very real impact. Japanese corporations are growing and hiring.

There are several ways to participate in this Japanese revival. We highlight the Wisdom Tree hedged Japan fund DXJ, which buys dividend-paying Japanese stocks and shorts the Japanese yen. It's up 21 percent this year, compared to the unhedged EWJ, which gained 12 percent. Additionally, the NKY provides exposure to the Nikkei 225 and has added 11 percent in 2013.
For blog readers who prefer individual stocks, 205 Japanese companies list ADRs on the NYSE. Here are the ten largest: Toyota, Mitsubishi, Nippon Telegraph, Honda, NTT, Softbank, Sumitomo, Mizuho, Nissan and Canon.
Kanpai.
Before it's here, it's on the Bloomberg Terminal.
LEARN MORE