Four Ways to Avoid Airline Baggage Fees
by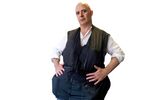 If you'd rather sit in a middle seat with fixed armrests, a broken tray, and no recline than pay baggage fees, European air travelers have some ideas for you.
Europe's low-cost carriers are notoriously stingy with baggage allowances. Ireland's Ryanair allows a single carry-on (purses or laptops have to fit inside it), weighing no more than 10 kilograms (22.2 pounds), with maximum dimensions of 21.6 inches long, 15.7 inches wide, and 7.8 inches high (or, roughly, this). Exceed that, and you'll pay €60 ($78) to check it at the gate. Wizz Air, a Budapest-based discount carrier, is even more strict. It charges €10 to €20 for any carry-on item measuring more than 42 by 32 by 25 centimeters (about 16.5 by 12.5 by 10 inches, or, roughly, this).
They're very, very serious about this. Gate personnel at some airports have been offered bonuses for nabbing oversize or overweight bags. So, from creative to crazy, here are some strategies passengers use to skirt the rules:
The Michelin Man: "Some people get completely redressed at the gate," putting on three or four layers of clothes, says Jerry O'Sullivan, a former Ryanair sales and marketing employee in Dublin. (Variation: The Cross-Michelin, in which a passenger dons apparel belonging to a traveling companion of the opposite sex.) "I've even seen people check in wearing their snorkeling equipment," O'Sullivan says.
The Suitcase Coat: Since passengers are allowed one coat or jacket in addition to a carry-on bag, some opt for special coats or vests with roomy pockets to accommodate extra items. Conor Pope, who writes a consumer-advice column for the Irish Times, is one of them: "I look ridiculous, and with 9 kilos of clothes, toiletries, books, keys, passports, and sun cream in the six pockets of my shiny black nylon coat, I am sweating like a drug mule at a Turkish airport, but who cares?"
The Duty-Free Solution: One of Pope's readers says he waits to stock up on items in the airport duty-free area. "In the duty free, you can buy a large and very sturdy, bright yellow bag for €1," he wrote in a comment on Pope's column. "In that yellow bag you can fit a lot of 'duty free' purchases. I've taken as many as 8 bottles of wine in this sort of bag, with room to spare."
An Ultra-Light Bag: O'Sullivan has developed a 0.8 kilogram (about 1.8 pounds) wheeled bag that exactly meets Ryanair's maximum dimensions and costs €19.99 ($26). "The 10-kilo limit sounds like a lot, but the bags by themselves can weigh 3 or 4 kilos," he says. While admitting that his bag "is not a fashion statement," O'Sullivan says he's sold thousands since he started marketing them online about a year ago.
Before it's here, it's on the Bloomberg Terminal.
LEARN MORE