Exporters Benefit as Canada, Mexico Buy American
by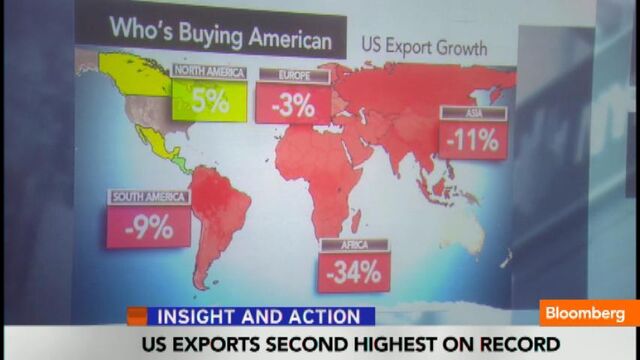 Headline #1: U.S. Exports rise to the second-highest level ever recorded.
Headline #2: North American trade offsets weakness everywhere else.

In other words, thank goodness for Canada, Mexico and the North American Free Trade Agreement (as well as the 1992 defeat of its prime opponent, H. Ross Perot).

We decided to find out exactly what's leading export growth to our neighbors, so we screened for companies selling at least 15 percent of their goods to either Canada or Mexico. Here are some of the standouts:


Some of these companies are household names, but no one industry dominates. Here's the complete list: Alliance Data Systems Corp. (ADS), Aegion Corp. (AEGN), Consolidated Graphics Inc. (CGX), Cliffs Natural Resources Inc. (CLF), First Cash Financial Services Inc. (FCFS), Fluor Corp. (FLR), Geospace Technologies Corp. (GEOS), G&K Services Inc. (GK), Global Payments Inc. (GPN), HS, Ingredion Inc. (INGR), Innophos Holdings Inc. (IPHS), Investment Technology Group Inc. (ITG), Jabil Circuit Inc. (JBL), Kansas City Southern (KSU), Louisiana-Pacific Corp. (LPX), Primerica Inc. (PRI), Spectra Energy Corp. (SE), Constellation Brands Inc. (STZ), Superior Industries International Inc. (SUP), Sykes Enterprises Inc. (SYKE), Towers Watson & Co. (TW), Zale Corp. (ZLC).

Two other indicators of U.S. export potential we'd like to share exclusively with blog readers:
1. In a recent conversation, Union Pacific Railroad Chief Executive Officer Jack Koraleski said his cross-border business with Mexico has become one of his top growth drivers.
2. Recent oil production data show North Dakota adding 36 percent year on year and Texas adding 30 percent. American energy independence ultimately means exporting oil and gas liquids, which in turn has the potential to radically shift the U.S. balance of payments and exports.
Free trade and an energy glut are big themes.

Before it's here, it's on the Bloomberg Terminal.
LEARN MORE