Europe's Economic Comeback, Seriously
by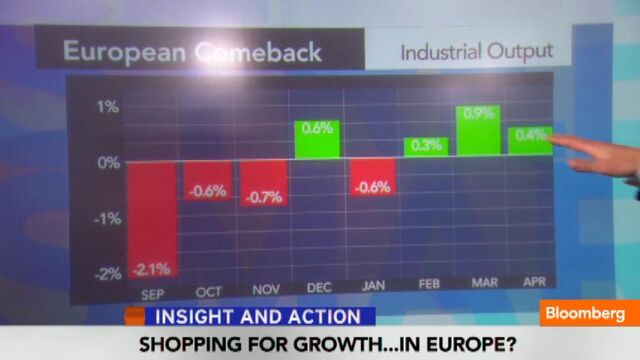 No, really... I mean it. Europe's industrial output has risen for three consecutive months. That's quite a change from last fall:

The rebound provides context for why European Central Bank President Mario Draghi has refrained from new accommodation, holding rates steady last week, and then reiterating yesterday that future bond purchases will "depend on fundamentals."
And Draghi has plenty of company: the 27 strategists tracked by Bloomberg collectively forecast a return to European growth by the fourth quarter of this year. Their optimism inspired a search for European industrial companies seeing sales increases this year of at least 15 percent. Happily, a few were to be found:


Blog readers will also appreciate these additional industrials we didn't have time to discuss on air: Andritz AG (ANDR/AV), Koninklijke Boskalis Westminster NV (BOKA/NA), GKN Plc (GKN/LN), Kone Oyj (KNEBV/FH), SSE Plc (SSE/LN), SGS SA (SGSN/VX). Our group of twelve euro-industrials has gained 10 percent this year.

One final observation: a few non-industrial stocks are also seeing quite a sales bump this year -- companies like Heineken, Remi Cointreau, Swatch and Ryanair. Clearly, life's not all bad in Europe.
Before it's here, it's on the Bloomberg Terminal.
LEARN MORE