Consumer Spending Boosts Growth Behind the Velvet Ropes
by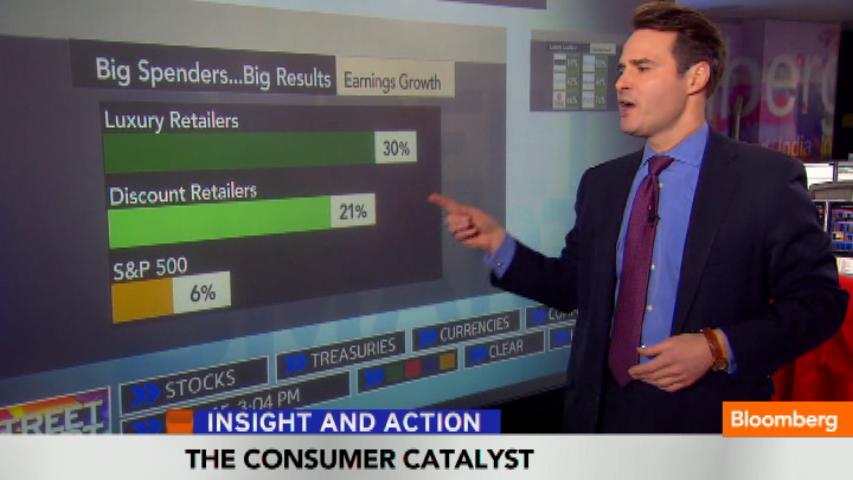 Consumers account for 56 percent of U.S. GDP, so we pay attention when companies like Macy's beat earnings estimates and announce they're making enough money to raise their dividend by 25 percent, as they did this morning. The headline speaks to a larger trend: U.S. consumer spending has risen in ten of the past 12 months, leading to strength for the retail group:

Meanwhile, high-end consumers are slapping down plastic with a heavier hand. These globetrotters are snapping up fancy products from their favorite luxury retailers, and earnings reflect this. Wells Fargo Strategist Gina Martin Adams first pointed to the trend about a month ago -- noting in addition, that the top 20 percent of earners account for more than two-thirds of all spending. So, while retailing in general has been strong, the upper-end has been especially so.

We drilled down a little deeper and discovered that high-end types seem to have a few favorite brands. Their desire for "what's hot" is ringing the register at these well-known labels:


Blog readers looking to zero-in on this luxury theme with one simple trade may lament the discontinuation of the venerable Robb Report Index, but can still tap into some high-end exposure via The Spyder International Consumer Index (IPD). It features BMW, Cartier, Daimler, LVMH Moet Hennessy, Swatch, and Zara. True, it contains some other companies like Adidas and Volkswagen, but at least the IPD gets you past the velvet ropes without a lot of effort.

Before it's here, it's on the Bloomberg Terminal.
LEARN MORE