Can India Replace China as a Manufacturing Hub?
by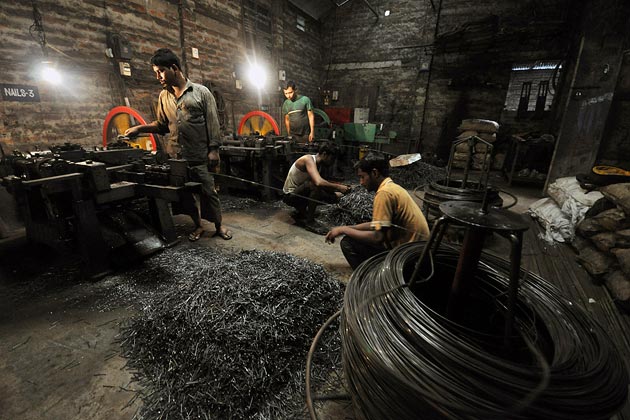 In a season of odd news from China—remember the floating pigs?—this was just another bizarre story: A U.S. businessman was held captive by his Chinese workers after they discovered his plan to shift production to India. Charles Starnes, chief executive officer of Coral Springs (Fla.)-based Specialty Medical Supplies, is a free man again, leaving the grounds of his company's site on the outskirts of Beijing late last month.
One reason this story is so strange is where Starnes wanted to go instead of China. Why would Specialty Medical or any other Western company want to move away from China, the world's manufacturing hub, to India of all places? Chinese wages are going up, and the labor market is getting tighter, making it more difficult for companies that require a large supply of inexpensive workers to continue operating factories in China. That's why some businesses are looking at alternatives in the region, such as Vietnam and Indonesia.
But for manufacturers that don't want to rely too much on China, switching to India is no easy task. Notorious for its lousy infrastructure and inflexible labor laws, the country has long been a power in industries like software services and business process outsourcing but an also-ran among Asian countries trying to build up their manufacturing sectors.
The Indian government is attempting to change perceptions about the country. It has plans, for instance, to build an "industrial corridor" between Delhi and Mumbai. Working with the Japanese government, the Indians envision a series of seven new industrial cities equipped with what's standard in China but still unusual in India: "The programme envisages development of infrastructure linkages like pioneer plants, assured water supply, high capacity transportation and logistics facilities," according to the project's website.
Helping to sell this vision of a new, can-do India, Commerce and Industry Minister Anand Sharma was in New York yesterday trying to convince business leaders of the idea that India as a place that can rival China as a manufacturing center. Indian wire service PTI reported that Sharma told his audience the government of Prime Minister Manmohan Singh intends to make India "the manufacturing hub of the world."
Other Indian officials are following suit. Finance Minister Palaniappan Chidambaram was in the U.S. this week for the same meeting as Sharma and told attendees about the need to build the country's manufacturing base. "It is in the mutual interest of both countries for India to become a large manufacturing economy," he said.
The problem is, some Americans aren't convinced India has changed its ways. They point to India's plans to promote local manufacturing at the expense of foreigners. A proposal by the Indian government to favor Indian companies, for instance, has drawn complaints from lawmakers in the U.S. Senate Finance Committee. Chairman Max Baucus (D-Mont.) and ranking Republican member Orrin Hatch (Utah) last month released a letter to Secretary of State John Kerry calling on the Obama administration to address what they called "unfair trade practices" and "protectionism" of India. The senators described their "serious concern about policies adopted by the Government of India that shut out U.S.-made innovative products and transfer U.S. intellectual property to its domestic industry."
In their letter, Baucus and Hatch focused on policies in the IT, telecom, and clean-tech industries designed to promote the purchase of Made-in-India products. These policies "block sales of U.S.-made innovative products and coerce U.S. companies to transfer their technology to local industry," they wrote. "India is ignoring evidence from its own recent positive economic experience and is lapsing once again into protectionism."
Ahead of Kerry's upcoming visit to India, there are signs that the pressure may be working. On July 7, the Indian government said it would review the Preferential Market Access plan, a proposal that would favor domestically manufactured electronic goods. India's Department of Electronics and IT is working on a revision of the policy now, with a deadline of early August.
The original PMA proposal had encountered opposition from business groups such as the American Chamber of Commerce in India and the Japan Information Technology Service Industry Association, and they are welcoming the about-face by the Indian government. For instance, the U.S.-India Business Council, a trade group representing American companies doing business in India, last week released a statement (PDF) that "applauded" a move by Prime Minister Singh to slow down the proposed Preferential Market Access plan. "India's rethink of its PMA policy sends a strong and welcome signal that India is listening to investors," U.S.-India Business Council (USIBC) President Ron Somers said in a statement.
Before it's here, it's on the Bloomberg Terminal.
LEARN MORE