Boeing's 787 Dreamliner in Trouble Again at Heathrow
by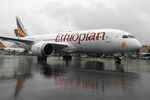 Friday was not a good day for Boeing's new 787 Dreamliner, the plane that was grounded earlier this year after its battery packs caught fire. An Ethiopian Airlines 787 burned at London's Heathrow Airport, temporarily scuppering flights at one of Europe's busiest airports. Hours earlier, a Thomson Airways 787 en route from Manchester, England, to Florida dumped fuel and turned back due to a mechanical issue.
No one was hurt in either incident, and officials had no immediate word on the causes. Still, when a plane catches fire, it's bad, and with the Dreamliner it's especially unfortunate given its inauspicious launch. After the initial grounding of the 787 in January, Boeing redesigned the lithium ion battery packs with additional protective measures so that any subsequent fires would not pose a catastrophic danger to the aircraft, and the model returned to commercial service in May. (United Airlines is the only U.S. carrier that flies it.)
Was it the batteries? Not clear, although photos of the fire showed damage at the rear of the plane; the battery packs are located at the front and center of the jet. Boeing's investors were clearly rattled. The plane maker's shares dropped more than 7 percent on the news—and pictures—of the Ethiopian Air fire; they were down 4.9 percent at the close. Heathrow controllers shut down operations for about an hour, with some flights diverted to area airports.
The Ethiopian Airlines jet arrived in London on Friday morning after an eight-hour flight from Addis Ababa. The return flight was scheduled for 9 p.m. An airline spokesman told Bloomberg News that the empty plane had been parked for some eight hours when the fire was reported at about 4:30 p.m. Ethiopian has four 787s and expects to receive six more. Fire extinguishers are free with purchase.
Before it's here, it's on the Bloomberg Terminal.
LEARN MORE