Betting With Bill Gross on the Fed's QE Taper
by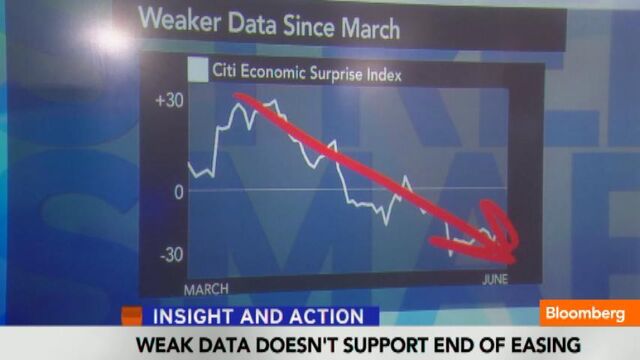 Taper: "Anything that gradually diminishes in size towards one extremity" -- Oxford English Dictionary
Extremity indeed. We've all become data hawks and Fed watchers, waiting to pounce on the latest indication whether the Fed will "taper" its $85 billion bond-buying program, or keep supplying liquidity ad infinitum.
Today's data provides ammunition for the no-taper crowd who would keep the Fed's money coming:

However, one day doesn't make a trend. So here's chart #2, the Citigroup Economic Surprise Index. It's a running tally of whether daily data points are better or worse than estimated, and the trend since March is clearly worse.

While the data spells out quite clearly that the economy is worsening, bond traders have chosen instead to fixate on the possibility of so-called tapering by the Fed. Specifically, bond traders have taken rates higher over the past several weeks -- a move inconsistent with the data and at odds with the trend.

Fed Chairman Ben Bernanke hasn't said he will taper, but rather that he will consider tapering as the economy improves. Bottom Line: The economy is not there yet and bond traders have gotten ahead of themselves.
Blog readers: We offer recent tweets from Pimco's Bill Gross, who runs the world's largest bond fund. We like betting with Bill.
1. "We like 5-10 year treasuries. Economy growing 1.7%, NO tapering for now"
2. "Slow global growth, currency wars. Put risk assets in your rear-view mirror"
3. "We're sticking with bonds as long as the Fed does."
Q.E.D.

Before it's here, it's on the Bloomberg Terminal.
LEARN MORE