Asiana Jet Crash Victim Was Struck by Firetruck
Kathleen Chaykowski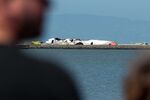 One of the two 16-year-old Chinese girls who died after the Asiana Airlines Inc. plane crashed in San Francisco was hit by a firetruck attending the scene, police confirmed.
The victim was covered in fire-retardant foam, lying prostrate on the ground near the fuselage, Gordon Shyy, a spokesman for the San Francisco Police Department, said in a telephone interview today.
"We do not know that the firetruck was the actual cause of death," Shyy said. Shyy also said he didn't know which victim was struck.
All but two of the 307 people on board flight 214 survived the July 6 crash-landing, the first fatal airline accident in the U.S. since 2009. The two girls, Ye Meng Yuan and Wang Lin Jia, were on their way to a summer camp in the U.S.
Before it's here, it's on the Bloomberg Terminal.
LEARN MORE