As China's GDP Slows, Will Reform Be Sacrificed?
By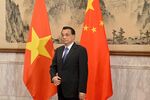 As China prepares to announce what will probably be disappointing second-quarter GDP numbers on July 15, here's the latest big question in Beijing: Will China's new leaders hang tough with plans for sweeping economic reforms? Or will they opt instead for more pump-priming, to rev up lackluster growth?
A Bloomberg survey of economists expects the economy to grow 7.5 percent in the three months from April through June, down from 7.7 percent growth the previous quarter. On July 10, China's customs administration announced that exports fell 3.1 percent in June, the first drop since the global financial crisis. That followed disappointing industrial production and investment numbers, as well as recent surveys showing companies in both China's manufacturing and service sectors turning in subpar performance.
"China's weak foreign trade data for June provide a pessimistic edge to second-quarter GDP estimates," writes Alaistair Chan, economist for Moody's Analytics, in a July 12 note. Chan predicts the economy will grow 7.6 percent in the second quarter. "This year is shaping up to be the slowest since 1999, and the risk is increasing that full-year GDP growth will come in below the government's 7.5 percent target."
Over recent months China's leaders—particularly new Premier Li Keqiang—have raised hopes that major economic reforms are in the offing, likely to be unveiled after a key third plenary meeting of the Communist Party this fall. Those will likely include loosening restrictive household residency requirements, adjusting the land ownership system to benefit farmers and encourage urbanization, giving banks more flexibility to offer market-oriented interest rates, and cutting more red tape to help business.
All these are seen as key to reorienting China's economy away from its excessive reliance on investment and toward a more consumption-driven one. At the same time, dialing back on stimulus while pushing reforms is expected to move China into a slower growth trajectory, more in the range of 6 percent, rather than the close to double-digit annual GDP rise of the past three decades.
"The chances for China to achieve both structural economic reform and a smooth growth trajectory—to have its cake and eat it too, in the manner to which it has become accustomed—are now much reduced," warned Andrew Batson, research director at Beijing-based economic consultancy GK Dragonomics, in a June 24 note.
"China needs to stop forcing SOEs to make lousy investments. Yet it is precisely the government's ability to get the state sector to invest, regardless of the short-term outlook, that kept growth from being even weaker in the 2008 and 2012 downturns," writes Batson. "China must give up its main tool for supporting short-term growth if it is to have a good chance of achieving decent longer-term growth."
So far the leadership is signaling it has no intention of backtracking even as growth continues to slow. "It is very important to plan as a whole the need to stabilize growth, promote economic restructuring and advance reform at this stage," Li said on July 10 at an economic meeting in southern China, reported the official Xinhua News Agency.
"We don't think 6.5 percent or 7 percent [this year] will be a big problem," said finance minister Lou Jiwei on July 11 at the bilateral U.S.-China Strategic & Economic Dialogue in Washington. (In March, China's government set an official full-year target of 7.5 percent growth.) "I want to emphasize that the structural economic adjustment is a painful process," added Lou. "It won't be possible to enjoy a comfortable life and a rapid growth rate with the structural adjustment."
Before it's here, it's on the Bloomberg Terminal.
LEARN MORE