A UPS-FedEx Dilemma: The Box Doesn't Need to Be There Overnight
by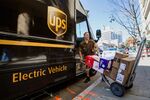 A day after Ben Bernanke sent investors into a happy tizzy, UPS quickly dumped cold water on the party with a profit cut for 2013 and a reminder that some parts of the U.S. economy remain weak. The Atlanta-based freight shipper said its full-year earnings would be $4.65 to $4.85 per share, below its prior forecast of $4.80 to $5.06. Second-quarter earnings, which the company will report formally on July 23, will be $1.13 per share. That's 7 cents under analysts' estimates, according to Bloomberg data.
UPS blamed the lower profits on too much capacity in air freight, labor negotiations, a slowing U.S. industrial economy, and "increasing customer preference for lower-yielding shipping solutions." That means people are choosing to pay less to ship slower. Part of the shift has come as fuel costs have surged in recent years, leading to heftier surcharges on the various shipping services UPS and FedEx sell, whether it's the express overnight or two-day ground delivery. And many shippers are unable to pass along the cost of faster delivery to their customers, who have become content with slower and cheaper, Cowen & Co. analyst Helane Becker wrote today in an e-mail.
"Shippers are realizing they don't need to get it there by 6:30 a.m. when noon will do," she wrote.
UPS shares fell 6.3 percent in morning trading. Rival FedEx—which is also suffering from customers who'd rather save money than time—was off 1.8 percent. Becker considers the trade-down likely to be a permanent feature of the freight industry, with minimal growth in premium options until the global economy—depressed by the weak state of Europe—recovers.
In a June 19 earnings call with analysts, FedEx Chief Executive Officer Fred Smith stressed that his company is adjusting its network capacity toward the economy shipping options.
"The reality is that the last several years have seen a sea change in international trade and in international transportation, and it has been caused by, No. 1, the increased price of fuel. I mean, we are sitting around with low-growth economies and the price of Brent is still north of $100 a barrel. And people forget that 10, 11 years ago, it was at 60 cents, 70 cents per gallon vs. $3 and some odd cents per gallon now. That's had enormous effects on people's thoughts about transportation alternatives, and it does make people willing to trade-off rate for speed."
Smith added that the company's mix of premium and economy freight is "like ground and express, we're happy to get either one and we just have to manage properly within those segment demands from the customers."
Before it's here, it's on the Bloomberg Terminal.
LEARN MORE