A Home Isn't an Easy Buy, Neither Are Homebuilders
by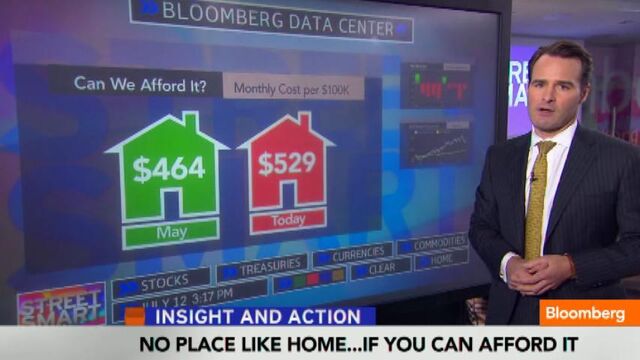 This higher rates thing is striking a little too close to home. Mortgages are going way up.

On Monday we discussed how REITs are plummeting compared with banks -- a tale of how rising rates affect borrowers compared with lenders. Now, what about you and me?
Turns out we're getting crushed. Bankrate.com calculates the national average interest rate for the 30-year fixed-rate mortgage has risen from 3.4 percent to 4.6 percent in just seven weeks. The increase adds $65 to the monthly cost of a $100,000 mortgage, bringing the total principal and interest payment to $529. The homes we want to buy just got a whole lot more expensive.

Falling mortgage applications prove the point. They've dropped in eight of the past ten weeks, as higher rates cause people who were on the fence to postpone refinancing or avoid buying homes altogether.

Obviously, this hurts the banks and homebuilders as well, but don't tell Wall Street. They've made their own assumptions about the homebuilders, and it's positively positive.
There are 11 liquid, public homebuilders and we highlight the most expensive for the benefit of blog readers, based on 2013 estimated price to earnings ratios: KB Home at 45x, Toll Brothers Inc. at 41x, Hovnanian Enterprises Inc. at 36x, Beazer Homes USA Inc. has no earnings. The average for the group is 26x compared with 16x for the S&P 500.
Looks like we won't be buying much of anything.
Before it's here, it's on the Bloomberg Terminal.
LEARN MORE